Fathers Day Gift Ideas -
Novelty Barbecue Aprons
Barbecue aprons typically are all about novelty and most of them big up or send up the man who's doing the cooking. Of course you can get plain BBQ aprons if you want to convey the more professional look.
Why Do You Need An Apron?
Maybe you don't......but your Dad does! Because of the novelty value the main market is as a gift for a birthday or Father's Day for example and if you buy over the internet then they're not expensive either.
Where Can You Buy An Apron?
There used to be a number of stores that I could recommend but now the only one on-line is Amazon.com and it has a large range with BBQ grill manufacturers aprons too.
---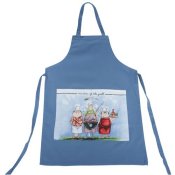 ---
What Other Ideas?
For the nutty pitmaster I've put below a selection of pictures to give you some examples of the sort of things available and the level of humor. So if that's tickled your chuckle button then what better way to surprise the man in your life than with a novelty apron and some personalized branding irons?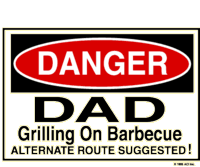 ---
On a serious note, bbq aprons are actually a good idea and there are a couple of points to consider:-
I like to have a pocket in my apron, I find it useful for keeping my instant read BBQ thermometer.
Look for an apron with an adjustable holter neck. This is the band that you put over your head. You will naturally tie an apron around your waist at the point where it is most comfortable and the holter neck adjustment makes the apron comfortable to wear no matter what your height. If you are tall and your apron doesn't have a neck adjustment then the neck strap will be pulling down which at best will make you uncomfortable and at worst might give you back ache.
How To Wear Barbecue Aprons

I know what you're thinking, put it over your head and tie the waist ties around the middle...and you'd be right. But that isn't the neatest way to wear your apron, especially if you have a novelty one.
Once properly adjusted for your height, fix the apron around your waist first and let the top half hang down in front of you. Tie the waist ties where convenient and now lift the top half and put it over your head.
Do it this way and you now have the front of your apron on display and not scrunched up by the waist ties.

I have to say that whilst I understand the humour it really does highlight how often it's a role reversal when it comes to barbecuing. It always seems to be the man who does the cooking and I guess in most cases he's the least experienced chef in the family. But then again, if you get stuck lads, you can always shoot me a question and I'll do my best to answer it.

Happy Cooking!
See Also:-
Write Your Own Equipment Review
Branding Irons BBQ Gift Idea
Cooking Tool Sets
Backyard Furniture
Barbecue Construction
Grill Islands