Barbecue Galore Hotplate Grill Review
This Barbecue Galore hotplate grill review is close up. It all comes from my experience of cooking on it.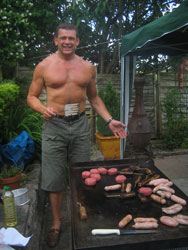 It looked like it was going to be a lovely weekend so on the spur of the moment my friend Neil decided to organise a barbecue. That wasn't the only weekend it happened also to be the anniversary of his wife's death so we chose to make it a fund-raiser as well.
Neil pulled this incredible hot plate grill out of the garage, something that he had borrowed from his local Scout group. Well that was as good as it got as far as Neil's resourcefulness goes. The cooking side of things was clearly not his forte so I took over. After all it was a good opportunity to experience cooking on a different barbecue.
The Barbecue Galore consists of a large gas fired hotplate and central fat drain. There are three rows of burners that have to be crudely lit from underneath using a match – so take care.
The heat regulation is by knobs on the side however I found it better to actually look underneath at how fast the burners were going rather than to trust the gauge on the regulator knob.
Generally speaking it worked well as a mass catering tool however I have a few tips if you ever have the chance to use one:-
Warm the grill up then turn the burners onto low. This is especially necessary when cooking for large numbers otherwise you'll just end up flipping burgers (or whatever) and still finishing with a burnt offering.
Keep the fat drain clear. It can easily get clogged up with the crisp residue of your cookout and once blocked there's nowhere for the fat to go.
If catering for a large party, get plenty of food on early. You can always keep stuff warm but it's impossible to speed up the cooking process without burning and (possibly) creating a health risk.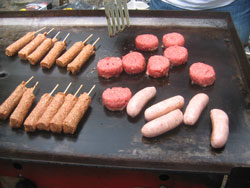 Ultimately the Barbecue Galore is a catering tool in that you can grill large quantities of food in a short space of time, it's also good for doing associated veggies like fried onions with a hot dog but that's where the versatility ends.
There's no hood so no opportunity to experiment with indirect cooking or adding smoke flavour with wood chips. If you're looking for anything other than a basic grill that can cook large quantities then you're going to be disappointed.

Sadly the rain came but that didn't stop the fun or the fund-raising, a great day in memory of Sandra Wilkinson.
See Also:-
Red Hot Plancha
Cadac Hotplate Grills

Return to Home Page from My Barbecue Galore Hotplate Grill Review