Bacon Barbecue Hamburger Recipe With Mushrooms
Bacon and mushrooms pack out this barbecue hamburger recipe and together with a good dose of mushroom ketchup, really give it a new flavor dimension.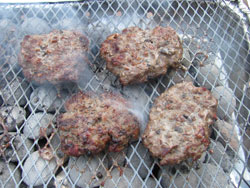 Not only that the texture of the burger is enhanced by the addition of crispy bacon. I've failed so far to find anyone who doesn't like this recipe and that includes my daughter who doesn't really like mushrooms!
Not my best effort at forming patties was it? I should have used my guide to making the perfect hamburger.

In this recipe the bacon and mushrooms are going to be fried up separately before being added to the burger mix. You want the bacon to be crispy and in order to ensure that that it is, you need to fry up the ingredients separately.
Mushrooms contain a lot of water that will come out when they enter the frying pan, if the bacon is in there at the same time then the bacon will boil in the water rather than fry until crisp.
That said, a lot of cheap bacon these days contains so much water too. If you find that a load of water comes out of your bacon when you fry it, just remove the bacon from the pan, pour away the water and wipe out the pan with some kitchen towel (that will get rid of the white goo too). Add a little more oil and return the bacon to the pan.

Serves:- 4 people

Preparation Time:- 30 minutes
Cooking Time:- 20 minutes

Total Time:- 50 minutes

Ingredients:-
450g or 1lb ground beef
120g or ½ cup chopped mushrooms
8 rashers streaky bacon (sliced) or bacon bits
1 tablespoon mushroom ketchup
1 tablespoon cream
1 tablespoon rapeseed oil
A knob of butter
Salt and pepper
Method:-
Heat the rapeseed oil in a frying pan and fry the bacon until crispy.
Place the bacon into a large mixing bowl and now fry the mushrooms until soft. When cooked add the knob of butter and fry for a further 2 or 3 minutes - when the butter enters the hot pan it will melt and caramelize very quickly adding a nutty flavor to the mushrooms.
Now throw the mushrooms into the bacon bits and add the cream, mushroom ketchup, ground beef, seasoning and get your hands in there and mulch away.
You probably know the barbecue hamburger recipe drill from here on...
Form into patties and grill for 10 minutes on each side and Bob's your uncle. Flip at half time, there's no need to be continually flipping and don't press down on them while cooking otherwise you'll just lose all the juiciness.
Use an instant read thermometer to test that they are done, don't rely on cutting into one and looking at the colour, it's not a reliable test.

Job done? Now you just add your favorite homemade barbecue sauce.
See Also:-
Tips For All Barbecue Burger Recipes
Gourmet Grilled Hamburger Recipe
Indian Grilled Turkey Burgers
Mexican Grilled Turkey Burger Recipe
More Grilled Hamburger Recipes

Return to Recipes from Bacon Barbecue Hamburger Recipe With Mushrooms