Instant Read BBQ Thermometer & Temperature Probes
Using a BBQ thermometer or temperature probe is the easiest way to check that your meat has been cooked to your liking and it's also essential to establish safe internal meat temperatures so that you don't poison yourself or your guests.

I used to be the sort of guy who would work on the old adage "prick the chicken and if the juices run clear then it's safe to eat". But now as a professional caterer I use a BBQ thermometer and I strongly recommend that you do also.
Instant Read Temperature Probes
Safe Internal Meat Temperatures
Myth #1 - "Chicken is done when the juices run clear"

No longer true. We consume so much chicken these days, it is intensively reared and it saddens me to say that in many cases these birds are fattened up before their bone structures are properly formed. Some of these chickens never walk in their short life-time.
For the same reason, when cooking, blood can seep out of the poorly formed bones and taint the meat. Your chicken could be perfectly cooked despite there still being traces of blood so if you're not using a BBQ thermometer you could be completely over-cooking your bird.
Use a free range bird however and your chicken should have well calcified bones.

Myth #2 - "If my red meat is brown inside it is cooked"

Not true. For sure red meat does turn brown when cooked but that's not the only reason meat turns brown, it also turns brown when aged. Freshly killed flesh is red because the blood (haemoglobin) is oxygenated but as meat is aged, the level of oxygen decreases and the blood turns a blue / brown so changing the colour of the meat.
Cutting into meat and checking the colour is not a reliable way of determining whether meat is safe to eat.

What Type Of BBQ Thermometer Do I Need?
When considering what type of probe to buy there are essentially three steps in the good, better, best styles of BBQ thermometer.
First thing to point out is that for measuring meat temperature an instant read thermometer is the entry level and a digital one at that. Thankfully the old days of mechanical thermometers or mercury thermometers has been surpassed, you can still get them, they're cheap but really not sufficiently versatile for barbecuing.
Note:- This style of thermometer is the sort that will be installed in the hood of your smoker to monitor the temperature inside your food chamber and for this purpose they are more than adequate.
Next you can break the designs of BBQ thermometer down into two types:-
"Instant Read" that have the display at the end of the probe
Remote thermometers have a separate read out unit connected to the probe either by wire or wireless
Instant Read Temperature Probes

If you are grilling then those with the readout at the end of the probe are perfectly acceptable.
We recommend and use Thermapen for the following reasons
The readout is almost instantaneous (within a couple of seconds)
The readout is large and clear
We have yet to have one malfunction on us
They are easy to store in your pocket or apron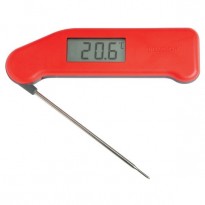 Note: Continually pricking meat with a fork or probe will let juices run out of the meat so used an instant read probe occasionally during the cookout when you know you are approaching completion. This shouldn't be a big deal.
Remote Barbecue Thermometer

When it comes to smoking you need to be able to monitor the temperature of your meat remotely because you don't want to be opening the hood on your smoker every 30 minutes and losing all the heat in the food chamber.
This is where the remote temperature probes com into their own. The probe is inserted into the meat remains in the meat during the cookout. The display read out is provided by a separate unit which will be connected by a wire or (in the top of the range models) wireless.
These BBQ thermometers allow you to continuously monitor the meat temperature and some also have an alarm that will sound when your meat reaches the desired temperature so that you don't overdo it.
Whether you need to have a wireless thermometer is down to the design of your smoker ie. how the smoker hood closes with wires coming out or simply how much you want the state of the art.
The wireless remote unit will allow you to be up to 100 feet or so away from the your smoker so when preparing your cookout you're not necessarily tied to standing by the barbecue smoker say if the weather's bad or like me, you smoke all year round.
Our preferred choice is the Maverick ET732. The instructions are poor but 5 minutes playing around with it and you'll get to grips with it, after that it's a robust accurate device.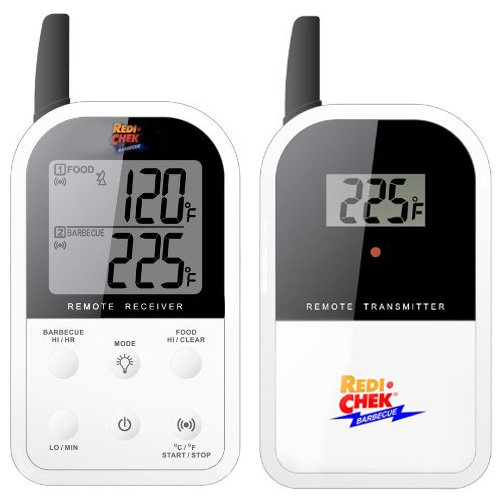 The final option is to have a BBQ thermometer with more than one probe, this will allow you to check more than one point in the meat without having to move the probe manually (something that would again require opening the smoker hood). This can be a particular advantage when cooking a large bird like a turkey because you can insert one probe in the breast and one in the thigh and keep a check one both temperatures at the same time.
For an extra $10, choose the Maverick ET-733

Calibrating Your Temperature Probe

It pays to calibrate your temperature probe on a regular basis to check that it is giving an accurate readout and there's a very easy way to do this:
Insert the probe into water on a rolling boil...it should read 100

°C or

212

°F

Insert it into iced water and it should read

0

°C or 3

2

°F
As a double check, if you have more than on probe, test them simultaneously. If they both read the same then the chances are they are accurate no matter at what temperature you choose to test. 

Safe Internal Meat Temperatures
You can check that your food is cooked and safe to eat when you achieve the following internal meat temperatures:-
| | Fahrenheit | Celsius |
| --- | --- | --- |
| Beef | | |
| Rare | 135°F | 57.2°C |
| Medium Rare | 145°F | 62.8°C |
| Medium | 160°F | 71.1°C |
| Well Done | 170°F | 76.7°C |
| Veal | | |
| Medium Rare | 145°F | 62.8°C |
| Medium | 160°F | 71.1°C |
| Well Done | 170°F | 76.7°C |
| Lamb | | |
| Medium Rare | 145°F | 62.8°C |
| Medium | 160°F | 71.1°C |
| Well Done | 170°F | 76.7°C |
| Pork | | |
| Medium | 160°F | 71.1°C |
| Well Done | 170°F | 76.7°C |
| Ham | | |
| From Raw | 160°F | 71.1°C |
| Reheating Cooked | 140°F | 60.0°C |
| Poultry | | |
| Whole Chicken | 180°F | 82.2°C |
| Whole Turkey | 180°F | 82.2°C |
| Roast Breast | 170°F | 76.7°C |
| Wings and Thighs | 180°F | 82.2°C |
| Stuffing | 165°F | 73.9°C |
| Duck & Goose | 180°F | 82.2°C |
| Ground Meat | | |
| Turkey & Chicken | 165°F | 73.9°C |
| Beef, Veal, Lamb & Pork | 160°F | 71.1°C |
| Eggs | | |
| | 160°F | 71.1°C |
| Fish | | |
| | 145°F | 62.8°C |
Seafood is a little less definitive, I don't use a BBQ thermometer for these, it's best just described in the following way:-
Finfish - Cook until opaque and it flakes easily with a fork OR if the skin comes away easily from a fillet, it's cooked.
Shrimp, Lobster & Crab - Shells turn red and the flesh is white opaque
Scallops - Turn milky white and become slightly more firm
Clams & Mussels - Cook until the shells open, discard any that don't open

Avoid Food Poisoning With My 4 Food Hygiene Recommendations

For those that do want to know it all, the signs and symptoms of food poisoning range from tummy ache, diarrhoea, vomiting, abdominal cramps, and in more severe cases, fever, dehydration and even death, but having said all this, please don't be put off having another barbecue. Take the right precautions, use the table above to monitor safe internal meat temperatures, follow my 4 basic food hygiene recommendations and barbecue food poisoning will be a thing of the past.
Wash hands and surfaces often. Before and after handling meat, wash both your hands and any surfaces such as chopping boards. Use this guide how to wash hands hygienically. Use chopping boards that are both dishwasher safe and the right size that way you always get your board hygienically clean.

Keep raw and cooked food separate. If a plate or board has had raw meat on it then always wash it thoroughly before using it for cooked meat. Store cooked meat above raw meat in the refrigerator, that way nothing raw can drip down onto your cooked meat. Store any meat that you are marinating in clean containers covered with stretch wrap on the bottom shelf of the refrigerator.

Refrigerate promptly Warm temperatures between 50°F - 100°F (20°C - 40°C) provide an ideal breading ground for bacteria so chilling food quickly is important but not before it has cooled significantly. If you put a large warm mass in your refrigerator, rather than cooling the mass down, you'll warm up the temperature in the refrigerator. Don't place hot pans in your refrigerator otherwise all you will succeed in doing is breaking the glass shelves in your refrigerator.
Do not cover warm food (e.g. with stretch wrap) Covering food that has not properly cooled makes for a moist environment – ideal for those little bugs to grow in.
See Also:-

More Utensils Tool Kits And Gift Ideas
Unique Grilling Gifts
Barbecue Skewers
Teflon Barbecue Grill Mats

Return Home from Instant read BBQ Thermometer & Temperature Probes