Beefeater Barbeques Review
Beefeater barbeques are the Australian BBQ success story. There are two ranges of gas barbecue grill, the porcelain enamel Discovery series and the stainless steel Signature series that culminates in a complete outdoor kitchen center.
When I looked at the Beefeater range what impressed me most was the build quality, certainly superior to other grills in the price range (including Weber grills) and overall very good for a mass market manufacturer. Clearly we're not at the standard of Fire Magic gas bbq grills, but we're nowhere near their prices either!
The links below will take you through to the best prices that I've found on the complete range however however if it's a built in grill that you're looking for then there are some pretty startling prices on selected grills here
.
This is the entry level to the Beefeater barbeque range however there's very little difference between the 900 series and it's more expensive stablemate (the Discovery) in terms of functionality. The price differential is essentially down to the chosen materials of manufacture.
This is a solid piece of kit featuring 4 cast iron burners (56,000 BTU) and a side burner (14,000 BTU) that sits on a powder coated steel trolley.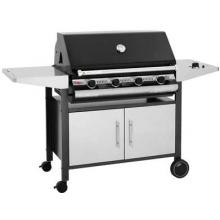 Don't always think of powder coated steel as being inferior. If well looked after it can look a lot better that stainless after a few years of use.
---
So what more do you get in a Discovery? It's quite simple:-
4 uprated stainless steel burners (72,000 BTU)
Stainless steel side shelf
Quartz ignition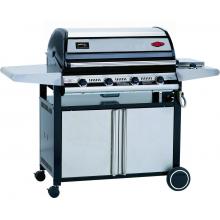 ---
The Beefeater Signature range is where we go fully stainless steel with the 2 and 3 burner Signature Plus units placed on a pedestal with side shelves and a telescopic towel rack whereas the 4 and 5 burner units sit on a stainless steel trolley and include two condiment racks.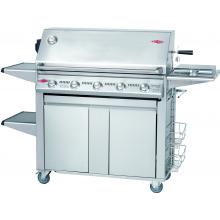 All these Beefeater barbeques have the option of a side burner, the same guaranteed rust free cook tops and are complemented by Quartz start technology that makes for cleaner ignition without the need for a battery.
Top the Beefeater barbeque Signature range is the SL4000 series and captures everything that the Signature Plus range has to offer in a built in unit with 6 burners and an optional trolley with ice bucket, waste bin and paper towel holder.
See Also:-
Review Your Own Barbecue, Equipment And Accessories
More Barbeque Grills

BBQ Smokers

Accessories and Gift Ideas

Patio Furniture

Page Updated May 2012
Return to Home Page from Beefeater Barbeques Review