Big Green Egg - Charcoal Barbecue Smoker, Grill, Oven And Tandoor
The Big Green Egg® kamado is a BBQ smoker, grill, pizza oven and even a tandoor all in one. In fact the kamado has to be one of the most versatile pieces of outdoor cooking equipment that I've ever experienced.
The Big Green Egg is the original American kamado although it is now made in Mexico. The basic operating principle of a kamado is as folllows:;
It has adjustable dampers both top and bottom that makes for easy temperature control and a fast start time, they say that your EGG® will be up above 110°C (220°F) in 10 minutes. Having used one for a while I'd say that it's more like 15 minutes but that still compares favourably with either a traditional open charcoal grill or a gas grill for that matter.
The maximum temperature achievable is in excess of 375°C (700°F) which is ideal for pizza or a nice piece of tandoori chicken.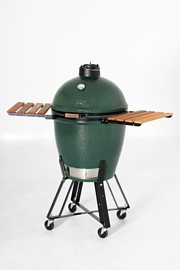 I have a Big Green Egg at home, it was the first kamado I ever bought mainly because in the UK in 2008 it was the only kamado available and even then I had to buy it from a company in the Republic Of Ireland.
I have to say that it does more or less everything that the marketing blurb states, and let's face it, it really is marketed well, but then again so do most other top brands of kamado... and some have now surpassed it.
What Makes A Kamado So Good?
First and foremost, the quality of the cooking. Even when experimenting with new recipes it's hard to really deliver anything other than a supremely succulent result.
Safety - The surface doesn't get as hot as a traditional barbecue and the fire is in a small area.
The exterior is treated with a lifetime green baked on glaze, this BBQ should last forever although mine is showing some cracks in the glaze (after 3 years).
The heat on the interior burns off any grease (the same principle as an Aga) and this works fine so long as you don't get too much tar from cooking low and slow.
When baking you'll get that "brick oven" flavour and crust to the food
Moisture retention is a key feature, the cooking process is different to a conventional water smoker and the manufacturers state that there's actually no need for a water pan at all. I prefer to put a water pan in especially when doing pulled pork because I believe it helps create a sauna effect that helps bring the meat up to the preferred internal temperature that much quicker. See my pulled pork barbecue recipe for more on this point.
The key benefits are that food cooks quicker, remains moist, there's no need for constant tending of the charcoal and the EGG® is remarkably economical in its charcoal consumption. It's this that differentiates a kamado from other kettle style smokers.
As I said at the top, the claim that the Egg is ready to cook on in 10 minutes is marginally optimistic but certainly by 15 minutes I was up to the benchmark smoking temperature of 225°F or 110°C and with the top and bottom vents fully open the temperature gauge just kept on climbing 10 degrees every minute until I was at a good grilling temperature.
A recipe book is included in the pack however my one complaint is that there's no instructions about how to control the temperature so having played with it, here's what I've found out.
Top and bottom vents full open and the temperature rockets
Use the bottom vent for large changes in temp but when in the "area" you need to be, use the top daisy wheel for fine tuning (+/- 25°)
Only change the setting on the bottom or the top, never both at the same time
If you have the small top vents open and close them half way, the temp will reduce by approx 10°C / 18°F
A steady smoking temperature is approximated by the bottom vent open ½ inch and the small daisy wheel vents half open.
I grill with the bottom vent open an inch and the small daisy wheel vents fully open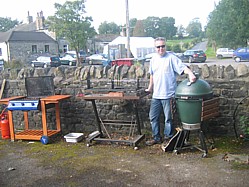 The Egg comes in five different sizes differentiated by the diameter of grilling area for cooking:-
Mini – 9 inch cooking diameter weighs 30 pounds
Small – 13 inch cooking diameter weighs 65 pounds
Medium - 15 inch cooking diameter weighs 95 pounds
Large - 18 inch cooking diameter weighs 140 pounds
XL Egg - 24 inch cooking diameter weighs 205 pounds
The versatility of the Egg (or ceramic barbecue in general) is one of it's key selling points. The Big Green Egg range has a additional ceramic deflector plate (called the plate setter) that sits under the cooking grate so protecting your food from direct heat. In other words it is by using the plate setter that you can cook indirectly and use it as a smoker or oven.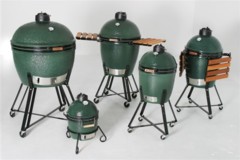 That said, do beware that there is no plate setter for the XL Egg so this particular unit can only be used for direct grilling.
The plate setter, isn't unique to the Egg, most other kamados provide one however some my not include it in the price so watch out for this.
The Primo Oval for example uses a different style of deflector plate to deliver the indirect cooking capability and I think that this design is much better. Use this link to read more about the differences of the Primo versus Big Green Egg.
For a second opinion, click here to learn more about the differences between the Primo and Big Green Egg (courtesy of ShoppersChoice.com)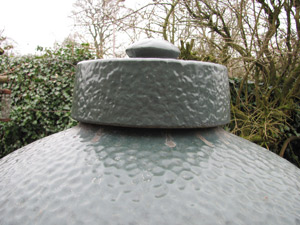 Other nice touches to the Egg include a ceramic lid that you can place over the top when your grill is not in use. This works not only to protect your top damper from seizing, it also acts as a great cork when you want to cut the fire at the end of the cookout.
The bottom damper also has a secondary perforated cover to protect you from hot ash during the cookout. A nice safety feature.
TIP - When you remove the top damper at the end of a cookout always leave it in the open position. After a few cookouts it will get tar in it that can "clog it up", it comes loose again when it warms up and it is so much easier to warm everything up when the dampers are open.
TIP - When placing the damper on the top it's tempting to place it so that the embossed Big Green Egg mark is neatly facing you but won't help when cooking. When you turn your food, if the damper is positioned as I've described then it will slide into the fully open position when you open the lid so when you close the lid your fire and temperature will race ahead and (unless you notice) present you with a burnt offering. Place the damper on top with the hinge immediately infront of you and it won't lose its aperture setting when the lid is opened.
I've done some supremely moist burgers and seared salmon on the grill, and to test the smoker I've tried the traditional favorites of brisket and ribs. So barbecue grill smoker it is, but is it the world's best?
What's The Downside To Buying An Egg?
If there is a negative with the Big Green Egg for me it's the size of the cooking area albeit since I bought mine they have now introduced the XXL. It's not so bad for grilling because you can work in batches and grilling time isn't generally long but when cooking large quantities "low and slow" I'm back to the big hunk of metal that is my offset smoker.

The single biggest negative overall however has to be the price! Big Green Egg do not sell over the internet so you've got to buy one through one of their agents. They say that this is because they have no control of the distribution and increases the risk of damage. I say it's so that they can protect their profit.
My Egg arrived through the official distributor on the back of a standard expedited freight carrier, nothing special, so I'm pretty sure that their argument is a complete red herring.
That said, I've checked prices with other manufacturers and you do have to be careful to understand what is provided in the package and what you have to pay for as an extra.
Today there's a lot of similar ceramic barbecue manufacturers such as Primo, Monolith, Kamado Joe and Grill Dome to name the most popular.
My other niggle is that the quality of the casters on the nest is no better than average, it's a minor point but so simple for the manufacturer to fix.
The ceramic has a lifetime guarantee but there's nothing for the metalwork so no wonder the casters are second rate. The nest is still a more robust effort than the one that comes with the Kamado Joe but the outstanding nest award has to go to Monolith because of its lower centre of gravity.
Finally (and this isn't just confined to the Big Green Egg), the temperature gauge easily fills up with condensation if left outside in situ.
Note:- Prior to purchase I was also a concerned about the weight of the BBQ because the brochure states the weight and it looked heavy to me. My (large) Big Green Egg was delivered on a pallet boxed up and stretch wrapped by a lorry with tail lift and pump truck so full marks for first impressions. I was able to load the Egg into its nest on my own and follow the well written instructions to be cooking within the hour.
Verdict
It possibly is the "World's Best Smoker and Grill" but it's actually a mighty fine tandoor too! Load it with charcoal, crank it up and if you're into Indian food then you're in for a treat. I've done my best ever tandoori chicken breast on the grill, I've done naan bread, and with a few skewers (and some heat resistant gloves!) some wicked chicken tikka. The original Indian clay tandoors cook at high temperatures and a ceramic barbecue mimics it beautifully.

That said, whilst I thoroughly enjoy cooking on my Egg, if I knew what I know now and had my time again I'd probably buy a Primo Oval for better versatility or a Monolith / Kamado Joe on price.
Consider all the options before parting with what is a sizable chunk of cash. When making your buying decision, do ensure that you are comparing like for like and whether you get all the kit for a barbecue grill smoker in the base price or whether there are extras. Other top brands include:-
Primo
Monolith
Grill Dome
Kamado Joe
Where To Buy A Big Green Egg
Where can you buy a Big Green Egg at a sensible price?
Big Green Egg protect their distribution channels fiercely and they claim that this is because they remain in control of the quality of distribution and so ensure that the product arrives with you in one piece. In my opinion it's so that they can protect the price, make more money out of you and help fund give-aways to Michelin starred chefs... but that's just my opinion.
Let's face it, the product is beautifully marketed and it does do what they say in the brochure, I know because I've cooked on one. But look at how an official distributor delivered my Egg - just a pallet on expedited freight.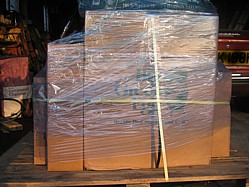 So where to buy a Big Green Egg? You have to go through an official distributor and the best place to find this is on the Big Green Egg website but unfortunately this doesn't always get a good result.
As I've traveled and cooked I've come across a few "nice guys" who sell these critters:-
If you're in California you can buy a once used egg from the organizers of the SoCal Eggfest. Note that these units are sold as used, they therefore are discounted from the new price but it's collection only and no refunds.
Finding where to buy an Egg in the UK is a real challenge, the only UK distributor is Alfresco Concepts
Click here for the distributor in Canada
Click here for the distributor in Netherlands
Click here for the distributor in New Zealand
As a last resort you can e-mail Big Green Egg and they will come back to you.
When you do find a distributor near you, most recognise that the product is premium priced compared to the competition and they will be willing to offer a discount. It's just that they won't publish it so you have to ask.
I know that it's a rotten thing to say (no rotten egg pun intended) but if getting an Egg presents you with too great a trauma either price-wise or because there's nowhere near you then consider some of the alternative kamados that are readily available, delivered to your door and easily purchased on the internet.
My personal favorite is the Monolith, because the bundle of accessories that you get in the standard price represents excellent value for money. Moreover I like the neutral black colour.

A final word of warning, if you find a new Big Green Egg being sold on the internet, the warranty will have been invalidated so if it looks too good to be true, it probably is.
Related Pages:-
The Green Egg Grill Versus The Grill Dome
Kamado Recipes
Changing A Kamado Felt Gasket
BBQ Accessories and Cooking Equipment
Patio Furniture
Bubba Keg Convection Grill