Blue Ember Gas Grill Review 2012
The Blue Ember gas grill (500) is loaded with features and the one I like best is the adjustable (3 position) cooking grates that give you great flexibility – high, low positioning gives you intense or lower heat functionality (depending on what it is you are cooking and how you like it cooked).
I've had a feature like this on my homemade grill for many years and it serves me well. It doesn't matter what manufacturers say about the technology for eliminating flare ups, there's nothing better than a bit of height when you are grilling anything that's going to drip a fair amount of fat.
With the 3 main burners producing 45,000 BTUs there is a lot of power to satisfy most chefs' requirements. A close second is the large cooking/working area – plenty of room to manoeuvre. Then there's the 'gadgets' such as the condiment tray, wine bucket and cart mounted bottle opener.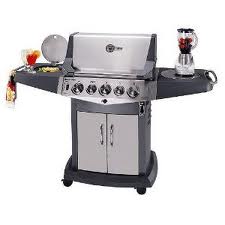 The manufacturer's have clearly 'set out their table' when it comes to positioning the 500 in the market place. A lot of grill for not a lot of money (relatively speaking).
Economy does come at a price, though, namely that the Blue Ember gas grills are made from lower grade stainless steel. To be fair this isn't uncommon to many mainstream grill manufacturers this really applies to all grills - if kept outside year round you grill is subject to rust.
But if you treat this baby well – buy a good cover
and shelter it from adverse elements you will get a good working life from it.
Note: Neglect this grill at your peril, 'cleanliness also equals longevity'. The grease drip tray is removable and a regular scrubbing with soapy water works wonders.
A word of advice from the manufacturers - light the left burner first to allow the gas to get all the way down the lines. I find this more than a little annoying, why can't there be a separate ignition for each burner? I guess the counter argument is price and reliability.
Incidentally if you buy any Blue Ember grill then they are now made under the new ownership of the Onward Manufacturing Company (makers of Broil-King and Huntington Grills) and carry a 7 year guarantee.
Ideal for family gatherings and parties.
Where Can You Buy?
It would appear that the strategy of the new owners of Blue Ember gas grills is to market each product down discrete distribution channels and so there are only few places where you can buy. These include:-
Vital Statistics:-
675 square inches of cooking space including 500 square inches of primary grilling and 175 square inch warming rack
45,000 BTU total output from 3 main burners
12,000 BTU brass cap side burner
12,000 BTU rear mounted rotisserie burner (rotisserie kit sold separately
3 piece adjustable porcelain coated cast iron cooking grates
430 stainless steel, cast aluminum and steel construction
Internal LED grill lights
Built in smoker box
"Sonar Que" fuel detection system
Battery powered electronic ignition
Condiment tray and wine bucket
Cart mounted bottle opener
See Also:-
Gas Grill Reviews
Barbecue Grill Comparisons
Meat Smokers
Big Green Egg Smoker And Other Kamados
Plancha Grills
Patio Furniture
Barbecue Grill Accessories and Gift Ideas
Page Updated May 2012
Return to Gas Grill Recipes from Blue Ember Gas Grill Review