Where To Buy A Big Green Egg
Where can you buy a Big Green Egg at a sensible price?
Big Green Egg protect their distribution channels fiercely and they claim that this is because they remain in control of the quality of distribution and so ensure that the product arrives with you in one piece. In my opinion it's so that they can protect the price, but that's just my opinion.
Let's face it, the product is beautifully marketed and it does do what they say in the brochure, I know because I've cooked on one. But look at how an official distributor delivered my Egg - just a pallet on expedited freight.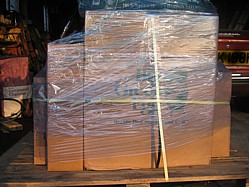 So where to buy a Big Green Egg? You have to go through an official distributor and the best place to find this is on the Big Green Egg website but unfortunately this doesn't always get a good result.
As I've traveled and cooked I've come across a few "nice guys" who sell these critters:-
If you're in California you can buy a once used egg from the organizers of the SoCal Eggfest. Note that these units are sold as used, they therefore are discounted from the new price but it's collection only and no refunds.
Finding where to buy an Egg in the UK is a real challenge, the only UK distributor is Alfresco Concepts
Click here for the distributor in Canada
Click here for the distributor in Netherlands
Click here for the distributor in New Zealand
As a last resort you can
e-mail Big Green Egg
and they will come back to you.
When you do find a distributor near you, most recognise that the product is premium priced compared to the competition and they will be willing to offer a discount. It's just that they won't publish it so you have to ask.
I know that it's a rotten thing to say (no rotten egg pun intended) but if getting an Egg presents you with too great a trauma either price-wise or because there's nowhere near you then consider some of the alternative kamados that are readily available, delivered to your door and easily purchased on the internet.
My personal favorite is the Primo XL oval, because it's larger than the Egg and more flexible in its cooking capabilities but it's still bloomin' expensive. You can effectively split in in half either for reasons of economy if doing a small cookout or to separate direct and indirect cooking. Dragon Fire appear to have gone into decline if their website is anything to go by and probably it is in part to the rise of the super competitively priced Grill Dome and Saphire.
Other players in the market include Kamado Joe and Monolith (UK & EU only).

A final word of warning, if you find a new Big Green Egg being sold on the internet, the warranty will have been invalidated so if it looks too good to be true, it probably is.
Related Pages:-
Primo Kamado
Grill Dome Kamado
Dragon Fire Kamado
Big Green Egg
Kamado Cooking Recipes