Portable Cadac Hotplate Grills Or Skottels
I've used portable Cadac hotplate grills (known as Skottels) for many years whilst on camping trips and now that I've started my section on hotplate plancha recipes it's appropriate that I give you my experience of using them.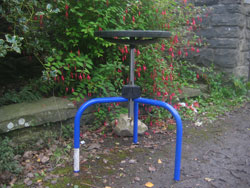 Born in South Africa, the range has been around for many years and continues to evolve. My first portable Cadac Handichef skottel consisted of cast iron plate that set on a burner and then connected to a gas bottle by means of a metal tube. It proved to be satisfactory although I found that the hotplate needed a lot of oil to stop food sticking so the food didn't really look that appetizing and cooking it almost required protective clothing because of the spitting oil. It was also difficult to get the thing to stand firm on an uneven camp ground.
Things have moved on (I'm happy to say) and the first improvement was to add a tripod so at least thing could be considered safe to cook on. I should also point out one handy thing is that the hotplate is reversible so ribbed on one side for putting perfect grill lines down your steak and smooth on the other – ideal for eggs in the morning.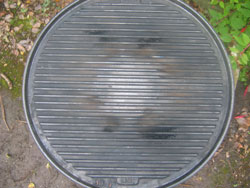 The latest range of Cadac hotplate grills are none stick and there's also a variety of alternative cooking units to sit on top of the burner, my sister uses her paella pan all the time. Whether cooking an evening meal in a rich sauce or that great British fry up in the morning, it's always on the go.
I still prefer to take my charcoal grill when camping but if you're the sort of person who likes to camp but wants a more conventional method of outdoor cooking than charcoal then there'll be something in the range of portable Cadac skottel grills for you.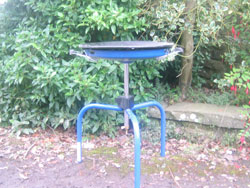 If however you're looking for this style of outdoor cooking to do at home then check out the Red Hot Plancha for what has to be the ultimate in social outdoor cooking on a hotplate grill.
See Also:-
Red Hot Plancha

Hotplate Barbecue Cooking
Return to Home Page from Portable Cadac Hotplate Grills Or Skottels