Cajun Barbecue Rub
This is a very simple and traditional Cajun barbecue rub recipe from the Deep South that will send your taste buds into the atmosphere. The gentle combination of herbs and spices makes it absolutely perfect for chicken.
Here I've just rubbed it onto some skinless chicken breasts, it's as easy as that.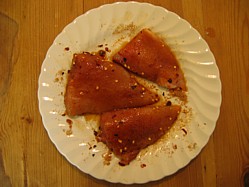 What makes cajun cooking so great is all the different influences that have come together to make such a distinctive flavor. In some ways it's more a way of life than a style of cooking and those of us who live to eat will fully appreciate all that Cajun cooking has to offer.
There's a lot of ready made cajun rubs on the market these days so I could excuse you wanting to make up your own but you just can't beat that punch of a fresh combination mixed. When you mix it together, give it a shake, take in the aroma and see what I mean?
It's good and spicy and is a great barbecue rub recipe for pork, chicken or any meaty fish, just make sure with the latter two that the skin is off so that the rub can really deliver full flavor.
Yield:- Enough for 8 chicken breasts
Preparation Time:- 5 mins
Marinade Time:- 1 hour
Cooking Time:- n/a

Total Time:- 1 hour 5 minutes

Ingredients:-
Method:-
Grind in a pestle and mortar and you're up and running! Just spoon all the ingredients in and as you grind up, that aroma will come right at you.
You don't have to grind it right down to a fine powder, it's just enough to "crack" everything up.
Sprinkle of your meat and leave the rub to penetrate the flesh for an hour or so. When the time's up, light your grill and cook to perfection!
Related Pages:-
Information on Barbecue Cooking Equipment

More BBQ Chicken Recipes

More BBQ Pork Recipes
Return to Gas Grill Recipes from Cajun Barbecue Rub