Charbroil Gas Grills Review 2012
Here is our Charbroil gas grills review 2012 included the latest infra red grills, how they perform and where to buy them.
One of the Charbroil gas grills range is now readily transportable and it comes with ice coolers to keep your pic-nic chilled too. It's called the Grill2Go Ice and here it is: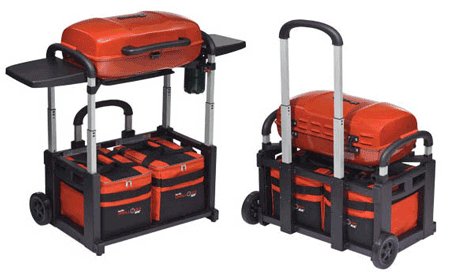 It has two 7.5" rubber rear tires so is easily movable along the horizontal but lifting it vertically requires some effort still (remove the two ice-coolers before attempting the latter).
It packs away neatly simply fold in the side shelves, pull out the carry handle and it becomes readily portable – rather like the 'rolling' suitcase that air travelers use. Excellent for storing away in those more confined spaces.
Being already part assembled when it arrives with you it's a somewhat easier assembly than many other Charbroil gas grills.
This grill is infrared meaning there are no exposed flames and the Grill2Go Ice directly heats the food and not the air surrounding it. The food is therefore seared (locking in the natural juices and flavors) so you can cook relatively quickly without fear of flare-ups.
Warm up time was a bit longer than Charbroil state, allow about 5 to 10 minutes longer than advertised but other than that I found this to be a great little portable gas grill.
Ideal for some cooking for themselves, a couple or small gathering, dedicated to those who want to grill on the move.
Where To Buy
The best deal that I've found on these grills comes through GrillsDirect.com and you can save in their
Super Sale! Up to 40% Off Top Rated Grills
Vital Statistics:-
Single burner portable grill
2 removable 30-quart coolers
290 sq. in. infrared cooking area
Dimensions: 44.5W x 20D x 37.5H inches
2 x 7.5" rear tires
Enamel coated steel construction with fold-out shelves
Uses liquid propane (tank not included)
10,500 BTU heat output
7.5-inch rubber rear wheel tires
---
If your desire in Charbroil gas grills is for something compact but extremely functional then you won't go far wrong choosing the M340IR.
It comes with the Char-Broil patented Surefire Electronic Ignition and what I loved is that each burner has its own temperature gauge with the heat being measured at the cooking surface so you can really get your grilling down to a fine art. It's the same principle as the Spanish "plancha hotplate grill", the direct contact heat ensures an evenness to your cooking and that fact that it's infra red just makes it that much more state of the art.
Quite rightly the manufacturer has a reputation for designing stable grills and the M340 is no exception. To my eye it is also one of the most attractive, solidly made from shiny stainless steel (not top grade) with equally solid grey/black side tables that fold neatly when put away.
It's the Quantum infrared and open-flame heating that make this grill stand out, it's great for searing meats and in my experience it is also extremely economical with the gas lasting for ages.
It's a small negative but expect to have to clean it after every half dozen or so outings.
In conclusion I would say that if you aren't worried about impressing the neighbors with a huge all singing, all dancing piece of kit then you can't go far wrong with this unit.
Where to Buy?
Save Up To 40% Off! Visit GrillsDirect.com
Vital Statistics:-
Small size premium grill
Quantum infrared grill
2 burner, 340 sq. in.
Dimensions: 46W x 21.9D x 45.7H inches
Black enamel enclosed cart with stainless steel doors
Uses liquid propane (tank not included)
21,000 BTU heat output
---
Once assembled and you take a step back to admire the M500 Char-Broil gas grill your eye confirms that yes it appears sleek and well-designed aesthetically in the flesh as it did on the website
. You instantly imagine yourself standing before it, barbecuing like a true professional, surrounded by admiring friends and family.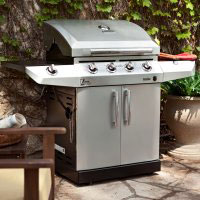 One note of warning though. This is not one of the Quantum infra red Charbroil gas grills, it has traditional burners. OK that's reflected in the price but when you consider that the IR unit is only $70 more and much more economical on gas you have to ask yourself whether this grill represents value for money over the long term.
If you are going to use your grill a lot then gas consumption will be a bigger consideration and you might want to move straight onto the M500IR below.
I heard of a complaint by one person that the grill surface could be easily scratched by using a metallic spatula, well it's hardly likely that the grill will stay pristine forever but to help matters along use a spatula made of solid plastic
.
Having said all the above, this is still an impressive grill. There was a thermometer in the lid (as you should expect) but I would have liked the side burner to be on my right (probably because I am right-handed).
Ideal for large family gatherings and parties.
Where To Buy?
Save up to 45% on outdoor grills | gas grills | charcoal grills and more | plus get free shipping. Click Here!
Vital Statistics:-
Stainless steel charbroil grill
Dimensions: 54.88L x 22W x 45.63H inches
Cooking surface: 500 sq. in.; Warming rack: 180 sq. in.
Sturdy, painted stainless steel construction
4 burners; appliance-style, 2-door cart
13,000-BTU flush side burner
Dual fuel convertible to natural gas
Surefire electronic ignition
Locking casters
Underneath storage
---
Like the M500 above (and all Charbroil gas grills if I'm honest) this infra red grill is very sleek and pleasing to the eye.
Constructed from stainless steel the M500-IR Quantum IR System 3 Burner Charbroil BBQ would look great on anyone's patio or out there in the backyard (to turn your neighbors green with envy!)
Charbroil claim that the infra red grills use up to 30% less fuel and this is down to the fact that your food is in direct contact with the heat, there's no air to heat in-between. If you are an all year round griller then this is worthy of consideration because the difference in gas consumption will be more marked the lower ambient temperature is. Indeed this baby can clock to over 700 degrees Fahrenheit, which is a substantial amount of heat in anyone's book.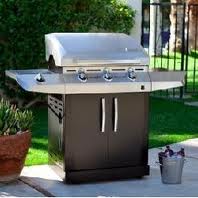 Searing steaks, fish and seafood is the absolute staple of infra red, it performs this duty supremely well and with separate thermometers at grill height for each burner you get perfect control. Crank up the heat for a few minutes then lower the temperature for another few minutes to get the best results.
I still use my charcoal grill for slower direct cooking but if gas is your thing then this grill takes a lot of beating.
Where To Buy?
I did notice when 'shopping around' that (again) there's FREE Shipping on Select Items at GrillsDirect.com
(at the time of writing). Consider also the Charbroil gas grills range at Amazon.com
as an alternative as there's often a great deal to be had here too.
Vital Statistics:-
Dimensions: 54.88L x 22W x 45.63H inch
680-square-inch cooking area
Sturdy, painted stainless steel construction
Quantum IR cooking system
3 burners, appliance-style 2-door cart
13,000-BTU flush mount side burner
Dual fuel convertible to natural gas
Surefire electronic ignition
Note
All Charbroil gas grills come as self-assembly but even though the parts are numbered and the instructions really simple to follow, it does take longer to put together than the manufacturer states.
Spare Parts For Charbroil Gas Grills
Grill Parts Guys and they seem to stock just about anything and everything and not just for Char Broil. Once you navigate to the Char Broil area of their site
you'll see a list of all the models. All you have to do is click on your model and it brings up a new page with all the spares for that unit.

See Also:-
Gas Grill Reviews
Barbecue Grill Comparisons
Meat Smokers
Page Updated May 2012
Return to Gas Grill Recipes from Charbroil Gas Grills Review – Grill 2 Go Ice