Grilled Chicken Fajitas For A Mexican BBQ
You can do Mexican chicken fajitas on the grill in an instant with this great spicy rub. It's so simple to mix, rub it on the chicken and grilled with some pepper and onion that there's barely time to get the soured cream out of the refrigerator.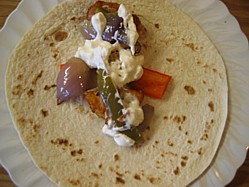 Any rub left over can be stored in an airtight jar ready for your next cookout.
The original fajita was beef, an area of the animal referred to as the strap, a tendenous cut that Mexicans found could be made tender by cutting into small strips and grilling it. Hence the word fajita actually means "little straps".
Today though, the term generally refers to meat grilled with a variety of vegetables and then served in a tortilla wrap and the's exactly what I'm going to do. And forget all this chewy tendenous meat, I'm using chicken breast.
Serves:- 4 people

Preparation Time:- 20 minutes
Marinade Time:- 30 minutes
Cooking Time:- 15 minutes

Total Time:- 1 hour 5 minutes

Ingredients:-
Method:-
Chop up the chicken into 1 inch cubes, do the same to the pepper and make wedges out of the onion.
Place the diced chicken in a bowl, mix up all the ingredients for the rub and throw a good handful over the chicken (basically enough to give the chicken a covering on all four sides.
Make sure that the rub is well worked in and then put the bowl to one side for about 30 minutes.
Thread the chicken onto skewers alternately with pepper and onion taking care to fill a maximum of half the skewer (otherwise you'll burn your hands) and that's it – job done.
Grill over medium heat for about 15 minutes and you're ready to go. Drop the skewer into a tortilla wrap, a dollop of soured cream, maybe some chili sauce and get wrappin'.
Related Pages:-
More BBQ Chicken Recipes

More Tasty BBQ Rubs

Chicken Curry Fajitas

Return to Home Page from Grilled Chicken Fajitas Mexican BBQ Rub