Coleman Roadtrip Grill Review 2012
The range of Coleman Roadtrip grills isn't large because the products are targeted to a very specific niche and that's camping.
Coleman markets itself very much as an outdoors company, manufacturing camping accessories and tents amongst other things so grills are just a part of the the range. What does that mean?
I would expect a BBQ manufacturer to focus on flavor and creativity from the point of view of the outdoor chef and BBQ enthusiast. I would expect a manufacturer of camping equipment like Coleman to be more into the practicality and portability of a piece of cooking equipment.
Certainly it's true that practicality and portability is the name of the game but how do the Coleman grills stack up?
When you think that this Coleman Roadtrip Grill weighs only 41 lbs (Grill: 24 lbs Stand : 17 lbs) you can see why this would be a popular buy for those who want a portable, easy to transport barbecue that folds up neatly and goes from your vehicle to cooking in a heartbeat. The compact foldaway design that fits into your car also makes for ease of storage back at home.
As the stand is completely detachable you can also use it on a table or counter top. An added advantage is that the lid detaches to accommodate large pots and pans but locks securely during transportation.
The grills look like an ironing board and perhaps not surprisingly they collapse in the same way that an ironing board does making them very easy to carry around. Sure enough the Coleman Road Trip Pro is extremely easy to set up and is made from high quality materials. Available in a custom black finish with chrome accents it looks, in my opinion, quite attractive.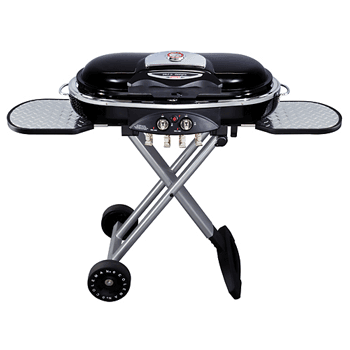 Brand new they look the part but when you come to actually look at the grill technology it's pretty basic, a heat source under a cooking grate. So yes, it's going to cook your food but no, it's not going to add much char-grilled taste.
Coleman sell this simplicity as flexibility because your Coleman Roadtrip grill can be used as a grill, griddle or stove.
Most importantly it provides good heat and that's down to the 22,000 BTU total heat produced by its 2 independent burners. The manufacturer's claim a consistent cooking performance even in cold weather, high altitudes and when fuel is low.
Clean-up also looks to be a bit of a challenge, especially when thinking about folding it up and grease coming out as you up end it. Many people recommend lining the the inside with foil prior to your cookout and I would agree with them.
Buying A Coleman Roadtrip grill
Our friends at Amazon
seem to have the best prices around and consider also buying though your Outdoor Chef's store too.
Ideal for traveling and restricted space barbecuing.
Vital Statistics:-
Dimensions: 50"L x 19"W x 36"H
Power: 7kW
Cooking surface: 285 sq in
2 Stainless steel independently controlled burners with porcelain heat tents
22,000 BTU (total)
2 grill grates included
Easy-to-use push-button ignition
Integrated thermometer
Detachable side tables
Convenient hooks for cooking utensils
Removable grease drip pan
---
What you see is what you get. A much often quoted statement and when it comes to the Coleman Gas Grill known as the 'Party Grill' it rings true. It does seem misleading to call it a 'Party Grill' as you immediately imagine yourself standing behind an enormous grill catering to the entire neighborhood. Wrong! The grill is in fact ideal for the sole griller.
Speed and practicality abound though, it takes only about 10 minutes to put together (no tools required!) and you can sling it in the back of your vehicle and be grilling your burgers within a jiffy of having arrived at your destination.
It also has the benefit of being able to use it for boiling (having removed the grill and replaced it with a suitable pot). It feels good and stable if set on a solid surface.
A criticism leveled at this grill is that most of the heat is focused on the center but once you know this then you can adapt your cooking to suit.
An upside not always mentioned is that the Coleman Roadtrip grill 'PerfectFlow' regulator does provide consistent cooking performance by producing a steady fuel stream, even in cold weather, high altitudes or when fuel is low. And heck just look at the price
!
There is a small griddle on one side of the grill to cook an egg or two and it comes with a nylon carry-bag (included) for keeping the parts together - giving it a couple of extra bonus points.
Ideal for the sole chef and taking out 'on the road'. It's a practical flexible cooking tool, not a high end grill.
Where to Buy?
The best price bar none is at Amazon.com
and as usual it is dutifully matched by your Outdoor Chef's store.
Vital Statistics:-
Compact, lightweight, easy to transport
8000 BTU burner control system
Easy to use 'Instastart' ignition
Legs detach and fit inside grill
Nylon carry bag included
---
See Also:-
Gas Grills Review
Barbecue Grill Comparisons
Barbecue Grill Accessories and Gift Ideas
Meat Smokers
Page Updated May 2012
Return to Gas Grill Recipes from Coleman Roadtrip Grill Review 2012