DCS Barbecue Grills for the Outdoor Gas BBQ Pro
If you are the outdoor BBQ pro then the range of DCS barbecue grills is for you. They come in 3 basic sizes with both natural gas and propane options, free standing or counter top and a range of extras.
What makes DCS grills stand out from much of the competition is that they are made from type 304 stainless steel - a high quality stainless with a significant nickel content.
Using this better quality steel makes welds stronger so the overall durability of DCS barbecue grills is going to be that much better. If you look at any stainless steel grill in a warehouse store then guaranteed it will be made from lower quality 430 stainless and it will be fixed together with bolts rather than welded.
Again, it won't be immediately apparent but things like the nuts and bolts used to fix a cheaper grill together will look bright a shiny but they won't be stainless steel. With these fastenings you won't notice any difference for the first 6 months until your cheaper grill starts to corrode - and it will be the bolts that go first.
The last point to make about DCS pro gas grills is that they are all hand crafted. It's differences like this that set the DCS barbecue grills apart from their competition, but then that's reflected in the price too.
Below is a brief resume of the key features of each of the sizes in the DCS range, just click on the pictures to access reviews and more information should you be interested in buying one.
To see the whole range on one page, Click Here to explore ShoppersChoice.com
.
The 30 Inch Range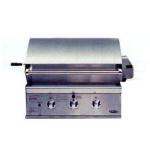 The baby of the DCS grill range is by no means second rate. Started by a 9V battery ignition system it powers 2 burners with a power consumption of 25,000 BTU / hour per burner. There's also an infra red rotisserie system that can take up to 50 pound weight of food and provides controllable searing. For night time grilling DCS have a patented Smart Beam grill light integrated into the rotisserie motor that lights up the entire grill.
Additional features include a removable stainless steel drip tray and stainless steel warming rack.
The 36 Inch Range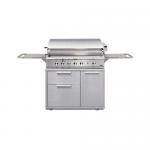 Other than the obvious increase in size the 36 inch DCS grill offers the patented Grease Management System that actively channels grease and oil away form the burners to minimise flare ups. The 36 inch unit as includes a smoker tray with 35,000 BTU / hr burner.
The 48 Inch Range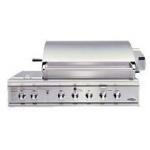 You don't get much bigger grilling surfaces than the DCS 48 inch gas grill. This range includes everything on the smaller grills but also has the option of a side burner.
DCS are a well established manufacturer of kitchen products as well as outdoor grills and they don't stop at built in grills, there's also a great range of on cart gas grills
. They also do outdoor refrigeration equipment
and patio heaters
too.
Related Pages:-
Voice Your Opinion On A Barbecue Or Accessory Item
The Grill Buyers Guide
Grill Islands
BBQ Smokers
Accessories and Gift Ideas
Patio Furniture

Page Updated May 2012
Return to Home Page from DCS Barbecue Grills