Diabetic Barbecue Sauce Recipe
This can be classed as a diabetic barbecue sauce recipe given the low carb content but please remember I'm not a doctor and therefore I make no claims about the merits of this recipe.
My uncle turned diabetic five years ago so when our family get together this is the barbecue sauce recipe I make.
That said, since I first put this recipe together my uncle's diabetes has recinded. I have heard of this happening as you changes diet and lose weight, of course I'd like to think that it was down to the magic of my barbecue sauce but I guess that's probably stretching the point somewhat.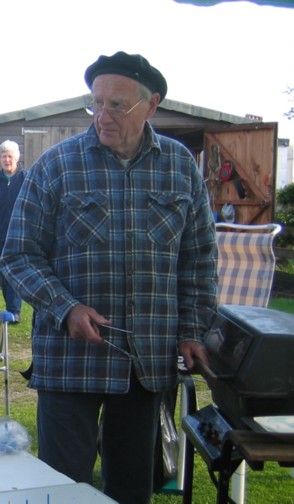 I quite like it on hot dogs but it can go well on any meat really.
Yield:- cup

Preparation Time:- minutes
Marinade Time:- overnight
Cooking Time:- minutes

Total Time:- minutes

Ingredients:-
1 tablespoon onion, v. finely chopped or crushed
1 teaspoon Worcestershire Sauce
1 teaspoon lemon juice
1 teaspoon onion salt
1 teaspoon crushed garlic
A pinch of cayenne pepper
4 tablespoons tomato puree
225ml or 1 cup sugar-free cola
Method:-
It's easy to prepare, add the tomato puree to the pan and gradually dilute with the lemon juice and Worcestershire whilst stirring all the time - this will make sure that there are no lumps. Then add the rest of the ingredients, heat up to boiling and then let it cool.
As stated on my home page, all my photos are mine so yes, this really is my Uncle Harold! I bought him a recipe book with 500 delicious diabetic recipes and he's never looked back since. (And if I do say so myself, the BBQ sauce in this recipe book is mighty fine too!)
Useful External Links:-
Click Here For The #1 Top Secret BBQ Sauce Recipe

See Also:-
Low Carb BBQ Sauce
Sugar Free BBQ Sauce
More Barbecue Sauce Recipes
The Easy Way To Peel Garlic

Return to Home Page from Diabetic Barbecue Sauce Recipe