Disposable Charcoal Barbecue Grill Trays
If traveling light you need a portable grill so the disposable charcoal barbecue tray may be the answer for a BBQ on the move. They're ideal for tailgating and camping.
Note
In addition to the tray variety there now is a disposable charcoal barbecue made out of a tree trunk called
ECO Grill
and we will review this further down the page.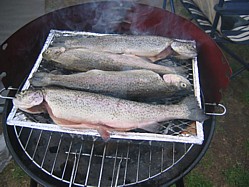 Starting with the tray variety it is essentially a foil tray filled with (what used to be) lump wood charcoal and a light grill mesh cover. On top of the charcoal is a fuel impregnated charcoal mat which once lit is all that's needed to get the grill going.
The latest versions of these grills now use briquettes and these appear to provide a more controlled and continuous heat. Good examples of this type of disposable charcoal barbecue grill are the EZ Grill and the environmentally friendly manufactured Lokkii bricks charcoal grill tray marketed by Blue Rhino.
Whether you're a BBQ enthusiast or just an outdoor type this style of cooking may well be for you, it certainly beats lugging around a camping stove and all the paraphernalia to go with it.
Key Advantages:-
Light and portable
Quick and easy to get going
Low cost
Adds a different dimension to any picnic
Having said all of the above, these disposable BBQ grills cannot replace your backyard grill:-
Disadvantages:-
If the lighting mat fails………take a firelighter block just in case.
Its not bio-degradable so you've still got to carry the used tray
The charcoal doesn't last forever
You can't adjust the grill height
It's low cost so don't expect quality equipment!
These final three points are critical because getting the balance right between making sure that the charcoal doesn't flare and ensuring that there's sufficient fire left to cook on is difficult (although EZ Grill seem to have got this right). The grill mesh also sits right on the charcoal making it easy to burn your food so here's a couple of TIPS
Avoid foods that release lots of fat such as sausages and shop bought burgers, go for lean cuts of meat, your own grilled hamburger recipes, fish or vegetables.
Lightly brush the food with oil before placing it on the grill, this will stop the food from sticking.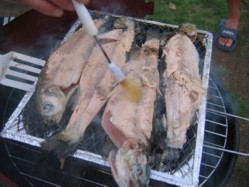 Despite the error above by some friends of mine, the results were still superb which just goes to prove that you can't beat fresh fish!
---
The EZ Grill has to be one of the best disposable charcoal barbecue grill trays that I've come across to date. There's some pretty aggressive claims made by the manufacturers about the performance of the EZ Grill so I wanted to road test the grill to see how accurate the claims were.
Specifically:-
It's easy to light
Ready to cook on in 15 minutes
You can cook on it for up to 90 minutes
Having removed the packaging I I found a wire support neatly tucked away in the base and this is designed to protect the surface upon which the grill is placed. Inside the grill is an envelope full of charcoal briquettes and on top of the envelope is a fuel impregnated paper sheet. I lit the sheet easily with a safety match and away it went.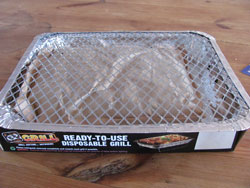 The flames started to die down after 15 minutes and a little after that I placed some chicken and burgers on the cooking grate. I was a little concerned about how close the food was to the coals but the intensity of the heat proved ideal for the burgers. The chicken needed a little more careful attention and regular turning to ensure that it didn't get too charred but no more attention than I would normally pay when grilling on charcoal.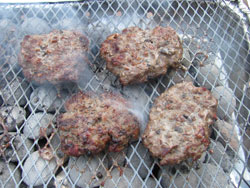 One can easily hold one's hand over the coals and feel the warmth without danger of getting burned and I think that this demonstrates the intensity of the heat. It's not going to heat a branding iron but it's certainly good enough to cook food and yes, it did last for the claimed 90 minutes.
These disposable charcoal barbecue grills do have their limitations, they're not a substitute for your backyard grill nor are they designed to be. I've cooked on similar grills before and had flare ups but the EZ Grill appears to have addressed all the limitations extremely well. The heat was constant and controlled with no flare ups so it has to be the best disposable charcoal barbecue grills that I've used.
Verdict
In summary, the claims made by EZ Grill are accurate and I was very happy with it's performance so for a tailgating party or a day at the beach I'd be more than happy to use one again.
Where To Buy
You can buy direct from EZGrill however most folks find better discounts by buying through Amazon.com
so check out this option first.
Note
With one of the EZ Grills that I sampled, the fuel impregnated paper had moved to one side and didn't sit on the charcoal envelope and this made lighting slightly more difficult. If I experienced this again I would take a little time to site the paper in it's correct position before attempting to light it.
---
So the disposable charcoal grill tray is becoming a more honed solution now flareups and short grilling times are a thing of the past but I still have one little niggle and that's the amount of packaging and metallic waste.
Well I've now found the ECO Grill that answers all my issues with the instant foil tray barbecue and even goes a step further because the flavor of the food that comes off one of these babies is fantastic too!
The grill is basically carved out of a tree trunk and it's in the way that that airways are channeled that makes for controlled and complete combustion. The wood used is Alder (both for the shell and the charcoal and we all know how good Alder is for adding flavor to any cookout, right?)
So great tasting food is guaranteed and that's also backed up by the fact that each grill comes with a resin wick that makes it easy to light without any need for lighter fuel or any petroleum based product that inevitably will taint the flavor of your food.
These grills are fully portable so you can set up your cookout anywhere, you can even make home life easy by just popping one of these in the bottom of your kettle barbecue and you'll get heat in minutes and that great Alder aroma in one easy strike of a match.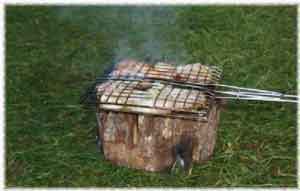 Is there a down side to this instant barbecue grill? Well just one. If you're on the move, you need to have a barbecue basket or a pan in which to put your food. If you do want to grill burgers and sausages individually then I use a Teflon grill mat.
It's a minor point and compared with the lack of trash and the great tasting food, I think that the positives far outweigh this issue and I for one will be taking one of these disposable charcoal barbecue grills with me on my next picnic.
See Also:-
Barbecue Grill Comparisons
Meat Smokers
Patio Furniture
Voice Your Opinion On A Barbecue Or Accessory Item

Page Updated May 2012
Return to Gas Grill Recipes from Disposable Charcoal Barbecue Trays