Ducane Gas Grills Review
Ducane gas grills are now a brand in the corporation that we know as Weber-Stephen Products Co which has it's good points and possibly some bad points too.
The grills are now made in China which means that they will be competitively priced although some of you may be turned off from this with potential quality concerns. All I can say at the moment is that Ducane gas grills are backed up by the Weber 5 year limited guarantee.
Below you'll find the reviews so far completed of the Ducane range. Each review has been carefully constructed using our knowledge of the grill together with a crystallization of site reader feedback to give you a balanced view of what the grill is all about, whether it's the right grill for you and bottom line, where can you get the best price.
Assembly instructions for the Affinity 3100 are totally pictorial and putting it all together took about an hour so long as you don't make mistakes – such as making sure you have the right component parts matched up to the pictures (or you'll find yourself going back to the beginning again like I did).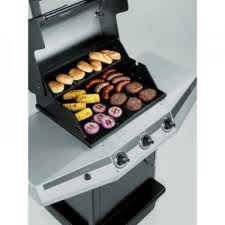 It helps that the actual grill itself is already assembled just leaving you with the frame that holds the grill
One piece of feedback we got was disappointing in that the material on the side tables and the grill lid isn't as solid as you would imagine (based on the online photographs) but this is inevitable when building a grill to a budget - that's why it is made in China.
Likewise the use of multiple languages in the instructions is a bit annoying but these days it's a fact of life when a single low cost point of manufacture is servicing a global market.
Having said all the above what about the three most important qualities you require from (any grill let alone) Ducane gas grills?
Heats up fast and hot? CHECK.
Cooks evenly? CHECK again.
Easy to clean? CHECK (If you leave the grill heat on HI for 10 minutes after cooking).
A grill for this price that's manufactured by Weber, hasn't it got to be worthy of consideration.
This 3 burner gas grill is ideal for smaller family gatherings and parties.
Vital Statistics:-
Exterior Dimensions (with the lid open): 62.5" H x 51.5" W x 28.5" D
418 sq. in primary cooking area
132 sq. in. warming rack area
3 stainless steel burners
36,000 BTU's per-hour input
Cart with two locking casters and two swivel casters
Built-in lid thermometer
Limited warranty
Natural gas grill includes a 10-foot flexible hose
Porcelain-enameled cooking grates
Porcelain-enameled heat distribution plates
Electronic ignition
Two scratch resistant work surfaces Specifications: (stainless steel) Maximum Total cooking area = 550 sq. inch
---
The Affinity 4100 has to be one of the best lower priced models available in the 4 burner range from Ducane gas grills, on this occasion Weber-Stephen Products Co have done a pretty good job on price without too much reduction in quality.
Big brother of the Affinity 3100 (the 3 burner model) it carries the ever reliable, no fuss, Weber 5 year limited guarantee.
It is in the materials used for the external construction that you could accuse of being 'somewhat thin' but Ducane / Weber certainly don't seem to have scrimped on the quality of the internal components.
The propane model we looked at moved around on its caster wheels (2 fixed + 2 swivel) with ease and it performed pretty well too.
It heats up real quick.
There are no 'hot-spots' giving a lovely even heat.
In summation then, if you want a budget gas grill that is ideal for family gatherings and parties and aren't worried about all the 'extras' then look no further than the Affinity 4100 Ducane grill. A low cost grill backed up by Weber warranty has to be a winner.
Vital Statistics:-
48,000 BTUs
4 stainless steel burners
electronic ignition
526 sq. in primary cooking area
167 sq. in warming rack area
¼" diameter stainless steel wire cooking grates
enclosed painted cart with stainless steel (or black) doors and lid
constructed of stainless steel, lid insert and a stainless steel tube lid handle
lid thermometer
cast aluminum end caps.
porcelain-enameled heat distribution plates
textured painted right and left hand side tables
stainless steel control panel.
4 heavy-duty casters (2 fixed, 2 swivel)
NG models include a 10-ft. flexible hose
5- year limited warranty.
---
Let's be honest, we've agreed that Ducane gas grills aren't expensive and as such your grill's good looks and durability will probably be compromised unless it is properly protected from the elements.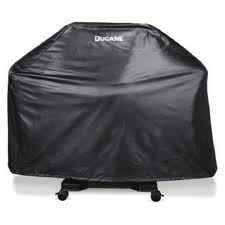 Not only does a grill cover keep your barbecue looking good it protects it from moisture ingression and therefore rust - a grill's biggest enemy.
Any rust around the burners will affect the performance of the grill in the long term and you'll start to notice it when you flames burn with an orange tinge rather than the blue that you had when you bought the grill.
If you have already got to the stage that I'm describing and are looking to buy new burners then make sure that a grill cover is on your shopping list to stop you throwing away more good money.
The manufacturers state that their heavy vinyl construction defends against snow, hail, rain, sun, and wind hazards while warding off the additional spiders, pests, and assorted debris that often infiltrate barbecues and pose fire dangers and I have no reason to disbelieve them.
The full interior felt lining prevents scratches to the grill's exterior and even absorbs any residual moisture on its surface. I liked the fact that velcro side straps are used to secure the cover over the grill.
The cover fits the following Ducane gas grills - 1305, 2005, 455-inch, and 688-inch gas grill models.
To clean the grill cover simply hose down with water.
From the Ducane grill parts
list you might also want to consider Ducane's small drip pans
. These foil liners for the grease catch pan come in packs of 10 and are 5.67" x 7.56" in size.

See Also:-
Gas Grill Reviews
Barbecue Grill Comparisons
Meat Smokers
Patio Furniture
Page Updated May 2012
Return HOME from Ducane Gas Grills Review 2012