Fire Magic Gas BBQ Grills Review 2012
The range of Fire Magic gas BBQ grills is for you if you're looking for professional quality barbecue construction dedicated to enhancing the enjoyment of your outdoor life.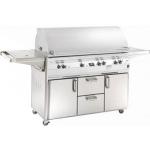 The majority of the range are gas powered and I've covered them on this page but Fire Magic do also manufacture a range of charcoal grills and a smoker too.
Grilling performance and durability is underpinned using a stainless steel welded body. This is top quality type 304 steel, not the type 430 that you see on most grills in the warehouse / sheds and in a nutshell, it costs more use and it costs more to weld.
The quality type 304 stainless means "no rust", the fact that it's welded means "no rust", this is what you are paying a premium for.
Other features include cast stainless steel burners, heavy-duty comfort touch knobs, push button solid state electronic ignition and heavy-duty double wall stainless steel hoods.
All Fire Magic gas BBQ grills are available in Portable or Built-in models and the entry level range details are below.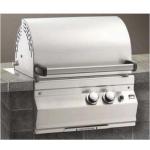 Features Include:
All stainless construction
Cast stainless steel burners (some models come with an optional infrared burner)
Optional rotisserie backburner and rotisserie kit (20 lb. capacity)
Comfort touch control knobs
Stainless steel cooking grids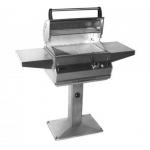 Cooking Space:
The Deluxe provides 368 sq inches of cooking area and the larger Regal I gives up to 660 sq inches of cooking area
---
Uncompromising heat and superb cooking control make the Fire Magic Echelon gas grill stand out from the crowd. Similar to it's smaller stable mate Aurora the Echelon boasts the cast "E" burner system that gives you control together with a uniform spread of heat. Hot and cold spots become a thing of the past.
Practically speaking there's some neat ideas gone into the Echelon such as a handy storage space for your rotisserie bar and a multi sensor digital thermometer. The Echelon also has a wood chip smoke drawer with an independent burner so you can smoke on this unit too.
And wait for it! – If you're the supreme barbecue chef poseur the top of the range E1060
even has a power cooking hood. Just push the remote control button and watch your gadget pals laugh in amazement.
Over and above what I've mentioned so far, the full data spec includes:-
Two independent push button, glow-plug style, solid state electronic ignition systems
Heat zone separators so you can run different parts of the grill at a variety of temperatures
Spring assisted "Feather-Lite" double-walled hood (for those that can't afford a power hood!)
Stainless steel infrared rotisserie backburner(s) recessed to create a larger cooking area
Heavy-duty spit roasting kit that's capable of turning 25 kilos or 60 lbs
Built-in angled halogen lights with auto shut-off for night time grilling
Stainless steel rod cooking grids for a durable non stick surface
Stainless steel warming rack
The different sizes available are:-
E660 provides 660 sq inches of cooking area
E790 provides 792 sq inches of cooking area
E1060 provides 1056 sq inches of cooking area
---
The Aurora gas bbq grills from Fire Magic represent the top of the range and caters for most requirements with an excellent standard of equipment and a range of sizes of cooking area. The range of sizes is listed below and that should give you a guide when looking through the range as to which one is best for you. Click on the links to find more information and up to date prices.
The A430 provides 432 sq inches of cooking area.
The A530 provides 528 sq inches of cooking area.
The A540 provides 540 sq inches of cooking area.
The A660 provides 660 sq inches of cooking area.
The A790 is a built in grill providing 790 sq inches of cooking area including a powerful rotisserie.
The A830 offers dual source (gas and charcoal cooking options).
In terms of the features, you get an awful lot more than the entry level Legacy gas BBQ grills. Stainless steel construction is standard of course and then you've got the added features below that really make this the complete unit.
Exclusive cast stainless steel "E" burners ensure that there's an even spread of heat – no hot or cold spots. These burners have a lifetime warranty.
Stainless steel rod cooking grids. These provide a non stick surface that doesn't wear out.
Two independent push button, solid state electronic ignition systems
Double-walled tear drop hood with stainless steel warming rack
Push button 9 volt battery operated ignition system
Built-in digital thermometer with meat probe
Optional recessed stainless steel rotisserie back burner & heavy-duty rotisserie kit
All of the above gas BBQ grills come in either freestanding units with cupboards underneath or as a built in unit suitable for a barbecue island.
Related Pages:-
Voice Your Opinion On A Barbecue Or Accessory Item
More Information On Barbecue Grills

Grill Islands

BBQ Smokers

Barbecue Accessories and Cooking Equipment

Patio Furniture

Page Updated May 2012
Return to Home Page from Fire Magic Gas BBQ Grills Review 2012