Grilled Burger Recipes With Lamb
It's got to be Greek style grilled burger recipes with Lamb. Olive oil and fresh oregano abound in this mix so your can be sure that a good burger awaits cooking.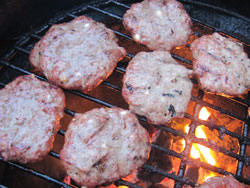 Lamb is one of my favorite meats so to make a burger out of some ground lamb has got to be great and to top it off, I've added Feta cheese to the mix.
If you're not familiar with Feta, it's a yew's milk cheese with a slightly salty taste and I think that it compliments the mix beautifully.
Don't wait for it to melt during the cooking, because it won't, it'll stay solid.
Serves:- 6 people

Preparation Time:- 10 minutes
Cooking Time:- 15 minutes

Total Time:- 25 minutes

Ingredients:-
1 pound ground lamb
2 tablespoons olive oil
2 tablespoons chopped fresh oregano
1 tablespoon chopped fresh mint leaves
1 garlic clove, crushed
1 teaspoon sherry
¼ teaspoon ground all spice
½ teaspoon salt
½ teaspoon ground black pepper
50g or 2 ounces feta cheese, crumbled
Method:-
Throw all the ingredients into a mixing bowl and crumble in the Feta cheese. Get your hands in and give it a good mulch around to make sure that all the ingredients are thoroughly mixed.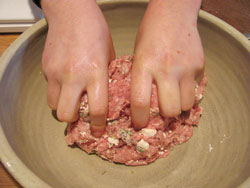 Make your patties, you should get about 6 out of this mix.
Place them on a medium hot grill and 5 to 8 minutes each side is the order of the day. Just let them sit, there's no need to flip them all the time.
To complete the Greek feel top your burger off with a little tzaziki barbecue dip.
See Also:-
Basic Barbecue Hamburger Recipe Tips
Gourmet Grilled Hamburger Recipe
Grilled Venison Burgers
Pork And Apple Burgers
More Grilled Hamburger Recipes
Tailgating Recipe Ideas
Barbecue Lamb Recipes
Return to Gas Grill Recipes from Grilled Burger Recipes With Lamb