Grilled Chicken Marinade Recipe
This grilled chicken marinade recipe came to me during the family European tour in the Summer of 2010. We visited Amalfi, not just famous for its dramatic coastline but also for its lemons and I have to say that I haven't seen lemons this large on the supermarket shelves where I live!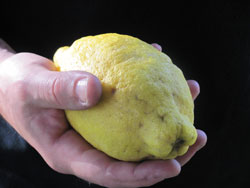 This marinade is simple to prepare and doesn't need much marinade time if you put it under the skin of the chicken but I still like to give it a couple of hours so that the citric acid can work its wonders and tenderize the meat.
Note: - The definition of a marinade is that it must contain some acid and it is this acid that tenderizes the meat. In the case of this marinade the acid is the citric acid in the lemon.
If you are going to use it on breast or thighs then take the skin off.
The mix doesn't make up a great deal of marinade but there's enought to stuff under the skin of a whole chicken or 2 large breasts or 4 thighs.
Yield:- 2 tablespoons

Preparation Time:- 10 minutes
Marinade Time:- 2 hours
Cooking Time:- n/a

Total Time:- 2 hours 10 minutes

Ingredients:-
Zest of one lemon (or half an Amalfi lemon!)
Juice of the lemon
1 clove garlic (crushed)
1 tablespoon ripped basil leaves
1 tablespoon extra virgin olive oil
Salt and freshly ground black pepper
Method:-
Mix all the ingredients together and the marinade is done.
You can either add boneless, skinless chicken pieces as described about and marinate for a couple of hours or apply under the skin of a spatchcocked chicken.
Note: - Even though you have ripped the basil (rather than chopping it) you will still find that it will wilt and darken in color during the marinade process. Don't chop it otherwise it will turn black and lose its texture very quickly.
Click here to learn how to spatchcock chicken
See Also:-

Grilled Chicken Marinade Turkish Style


Chicken Tikka Marinade
Orange BBQ Marinade
More Barbecue Marinades


Return to Gas Grill Recipes from Grilled Chicken Marinade Recipe