Teriyaki Grilled Salmon Marinade Recipes Don't Come Easier Than This!
Teriyaki is one of the easiest and most popular grilled salmon marinade recipes because Teriyaki grilled salmon has a great flavor and color yet the marinade time isn't very long.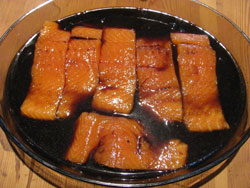 Fair enough, you can go down the supermarket and buy what is a perfectly adequate bottle Teriyaki marinade, but to make it up yourself is so simple (especially with my easy Teriyaki marinade recipe!) you really should give it a try.
This marinade forms the major ingredients in what I think is one of my best grilled salmon recipes

Yield:- 2.5 cups

Preparation Time:- 30 minutes
Marinade Time:- 30 minutes
Cooking Time:- 20 minutes

Total Time:- 1 hour 20 minutes

Ingredients:-
Method:-
Throw all the ingredients into a saucepan, heat up to a boil and stir until the sugar has dissolved. Once everything is mixed then allow your marinade to cool - it is essential that your marinade has cooled before you add the fish otherwise it could partially poach in the liquid.
TIP - While the liquid is cooling, take a couple of minutes to feel the surface of your salmon steaks for any bones. If you find any, remove them with tweasers or a clean set of pliers.
Once cool you can drop in the salmon steaks, cover and refrigerate (if marinading for longer than an hour). Allow the marinade to have at least 30 minutes, longer if you can resist temptation!
To grill the salmon you need medium high heat and 8-10 minutes on each side depending on how thick the steaks are. Use a Teflon grill mat to stop the salmon sticking to the cooking grate.
See Also:-
Marinade For Grilled Tuna
Ginger And Lime BBQ Marinade
Spicy Thai Marinade Recipe For Grilled Shrimp
Citrus Marinade That's Great On Barbecue Monkfish

Return to Gas Grill Recipes from Teriyaki Grilled Salmon Marinade Recipes