Rotisserie Grilled Venison Recipe On The Spit Roaster
This rotisserie grilled venison recipe produces the juiciest results and it's my favorite way to prepare venison bar none. The secret is in the way you prepare the venison for the spit roaster, you need to take your time but the results are well worth the effort.


The cut you need is the haunch, a tender cut because we're grilling and then we're going to prepare the meat in a traditional "Olde English" way that means cutting the venison into collops. These are effectively steaks about 1 inch thick and the technique then is very similar to the way the Greeks prepare a Doner kebab in that the collops are threaded onto the spit and strung up.
Is a grilled venison recipe worth all this trouble? Yes!....because venison is such a lean meat there really very little fat in it at all to keep the joint moist and stop it drying out. Cutting it into collops allows you to intersperse the collops with other fatty things in before threading them onto the rotisserie.
The stuffing mix that you are going to use is effectively in three parts.
A herby suet
Fatty bacon (fattier than your normal streaky)
Egg yolk
Once you've layered it you will need to string it up. Don't worry, I'm no butcher (and I'm certainly not a surgeon) and I managed to get it right first time – even if there was a little string to fish out when I was carving!
Serves:- 8 to 10 people

Preparation Time:- 45 mins
Cooking Time:- 45 mins

Total Time:- 1 hour 30 minutes

Ingredients:-
1½kg or 3 lbs Venison haunch
250g or ½lb suet
A handful of chopped fresh herbs (I like to use thyme, rosemary & parsley)
18 good rashers of thinly sliced of fatty bacon
Salt and Pepper
6 egg yolks
2 glasses of red wine
String
Method:-
Grate the suet into a bowl and add the chopped herbs, salt and pepper and get your hands in and give it a good mulch around. In a separate bowl lightly beat the egg yolks.
Now make your venison collops. I found that a 3lb haunch produces about 8 – 10 collops and keep them in the same order that you cut them because I found that this made it easier when it came to stringing it all together.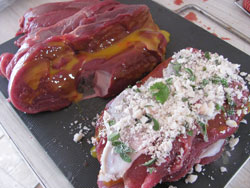 On a board, lay two good lengths of string (say 18 inches) at right angles to each other.
Whichever end has the largest steak, lay this on your board first (over the cross in the string) and brush it with egg yolk. Now liberally sprinkle the herb infused suet onto the egg yolk, layer on some bacon, then brush the underside of the next collop with egg yolk and slap it on top off your first one. It's like constructing a giant sandwich.
Once you've completed your tower, tie up the string at the top and now that your stack of collops is relatively stable you can wrap more lengths around the circumference to fully secure everything. It seems crude but it works and to be fair that's probably as good as it got in the olden days.
Gently thread your collop sandwich onto the rotisserie spit and then you're ready to go. Venison needs about 15 minutes per pound on the rotisserie so this size will take about 45 minutes on a high heat.
After 15 minutes, pour a glass of red wine over it and then stir it into the drip try and continue to baste. After a further 15 minutes pour over another glass of wine and keep basting.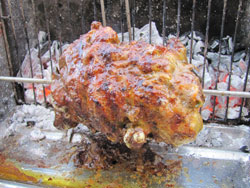 Remove the venison from the grill after 45 minutes and let it sit for 15 minutes. During this time you can remove the string but take care to keep the venison all as one big lump.
Now carve. It may slice but I just like to break the collops apart and give one to everybody and how you want to serve this grilled venison recipe is a matter of taste but I have to say that it went very nicely like a burger in a bun with a few salad leaves!
This has to be my favorite grilled venison recipe of all time and when I did for my party guests, they were all blown away and there was nothing left.
See Also:-
Spit Roasted Venison Wrapped In Pancetta

Smoked Venison Roast

Smoked Pheasant Breast

Smoked Goose Breast

Grilled Rabbit Recipe

Venison Jerky Recipes

Return to Home Page from Rotisserie Grilled Venison Recipe On The Spit Roaster