Holland Gas Grills Review – The Companion
There's something about the metallic look of Holland gas grills that I guess you either love or hate and the same can probably be said for the angular lines. But then looks aren't everything and one thing stand out above all and that that they are "Made In America!".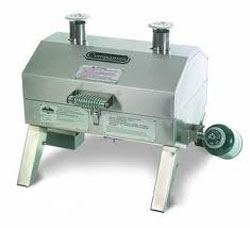 The Holland equipment that I've reviewed so far meets a particular market niche head on and that's the portable grill market for tailgating and camping. Certainly if this is your thing then the gas grill could just be made for you.
As far as Holland Gas Grills go the Companion Propane Portable Grill is gaining one hell of a reputation with the number of satisfied customers on the increase. You could, however, be forgiven for thinking this more of an oven than a grill for the manufacturers themselves recommend you cook with the lid closed.
Some people find this a little off-putting at first but once you've learned to trust your grill, you'll start producing great food. After all, you don't check the oven every 5 minutes when roasting some meat do you?
Holland pride themselves on a number of features:-
Made in America
Indirect cooking on gas so guaranteed that there will be no flare ups
A drip tray that uniquely sits between the heat source and the cooking grate. This clearly helps with point 2 but it also vaporizes the drips to create the smoke just like a flavor bar.
Much of its success is down to this guarantee that the exclusive patented Holland Grill system prevents flare-ups. The drip pan is located between the food and the flame - so food can't catch on fire and it's the drippings striking the said drip pan that give the cooked food its distinctive flavor. (There is an argument here then not to clean the grill regularly as this further enhances the flavor – great for the more lazy amongst us!)
This is a small grill, it has to be to be portable but it is no lightweight – no sir. If you are catering for yourself plus 2 or 3 others then it's just perfect (you can always buy a bigger Weber or Charbroil Grill2Go as well if you also plan cooking for the entire neighborhood).
It has to be said though that it is horses for courses so if your approach to outdoor cooking is a vision of seared steaks with lovely grill marks then the Companion isn't for you (check out the infra red Charbroil) but if your tendency is for steaks cooked evenly on low heat then you will be a 'happy camper'.
Where To Buy Holland Gas Grills
Holland Gas Grills themselves do not sell direct to the public but it is an extremely economical buy and the best price I've seen is at Amazon.com
Ideal for singles and couples with the occasional friend or two joining you. Note that there is also an electric version which is great for barbecuing in restricted heat source locations.
Vital Statistics:-
212 square inches of cooking surface
All stainless steel construction.
Five year warranty.
Exclusive patented Holland Grill system
Expanded stainless steel cooking grid
2600 to 4900 BTU Low/Medium/High adjustable burner settings
Uses 1 lb. disposable tank (not included). Tank lasts approximately 4 hrs. on High, 5 hrs. on Medium and 6 hrs. on Low.
Optional conversion hose accessory available to use 20 lb. LP tank
See Also:-
Gas Grill Reviews
Barbecue Grill Comparisons
Meat Smokers
Big Green Egg Smoker And Other Kamados
Plancha Grills
Patio Furniture
Barbecue Grill Accessories and Gift Ideas
Page Updated May 2012
Return to Gas Grill Recipes from Holland Gas Grills Review – The Companion