Luhr Jensen Smoker Review – Big Chief II
So the first thing we learn here then is that the Luhr Jensen smoker range are now Smokehouse Products. Under this brand name Smokehouse produce both Little Chief and Big Chief electric smokers.
Some say that the only true way to produce fully-cured, smoked meats is by using a Luhr Jensen smoker, so how do you get the best out of it and where does the Big Chief II sit in the range?
There are two distinct ways in which you can make your smoker work to best advantage. The first is in the simple way that each smoker produces traditional, fully-cured meats – 'as the aroma of the wood smoke permeates the food'. The second is by using the addition of different smoke flavouring ('Chips 'n Chunks fuels') that deliver those special tastes. As they say – 'a Smokehouse is quite versatile, so don't be afraid to experiment with it'.
Why not try using a brine solution as an alternative method of smoking? This method 'facilitates the infusion of smoke flavoring into the food and the sugar counteracts the natural bitterness of the salt and the water is simply the carrier'. Note: Never use a metal container as a brine tub because it will taint the flavor of the meat and make certain that the container is large enough to allow the food to be completely covered by the solution.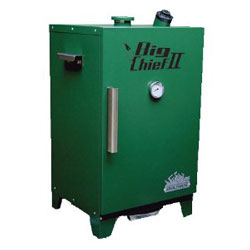 Entry level Luhr Jensen Smokers are constructed from aluminium (with no assembly required), making them tough, durable beasts that will last a lifetime. They come with a guaranteed 'to be free from manufacturing or component defects for a period of 2 years'. The upside to aluminum is the price but the downside is the possible lack of control and versatility.
So the Big Chief
is a low cost domestic unit more suitable for large family gatherings and parties respectively but for something more robust, then the Big Chief II
is a commercial quality portable electric smoker that competes with the likes of Bradley and Masterbuilt. Big Chief Tuff-Coat Front Loading Smoker
versions come in fabulous black or red colours.
The Super Big Chief is capable of temperatures from 150F to 450F which means that you can cook any kind of food as quick or as slow as you want. The hardwood pellets are burned in a forced air system with the smoke circulating through the cabinet. With its front temperature dial this machine really does look like a safe (but with a smaller sidekick!)
The whole Luhr Jensen smoker range is good for larger groups and parties on a more commercial scale.
Vital Statistics:-
Big Chief:-
5 chrome plated grills
1 3/4 lb bag of wood chips
450 watt heating element
Smokes up to 50 lbs of meat.
Size: 24.5" H x 18"W x 11.5" D.
Big Chief II:
Made of high grade tuff-coated 20-gauge steel and an interior of heavy food grade stainless steel.
Automatic temperature control ranges between 100°- 300°F.
Smoke using wood chips, chunks or pellets.
Grease collection tray
Power: 120V 60 Hz 1500 Watts 12 Amps
Size: Outside dimensions: 37" H x 23" W x 22" D
Total Weight: 93 pounds including packaging
10 square feet of grill space Holds 100 pounds of food
Easy Read Temp Dial
Heavy Duty Handles
5 Quality Plated Grills 15" x 19"
1500 Watt Electric Element
Fuel Pan >
Heavy-duty back wheels
Stainless steel handle
Super Chief Electric Pellet Smoker:
Size: 36" H x 20" W x 17-1/2" D
Hopper: 15-3/8" H x 11" W x 13-5/8" D
Weight: 94 pounds
120V AC - 60hz 8.88 sq. ft. of adjustable rack space with 4 removable racks.
See Also:-
Gas Grill Reviews
Online Barbecue Grill Sales – Shop By Brand
Barbecue Grill Comparisons
Meat Smokers
Big Green Egg Smoker And Other Kamados
Plancha Grills
Patio Furniture
Barbecue Grill Accessories and Gift Ideas

Return to Water Smoker Recipes from Luhr Jensen Smoker Review – Big Chief II