Sweet Chili Marinade For Grilled Chicken
This sweet chili marinade for grilled chicken will spice up your life. All the influences come from what I would describe as typically Thai sourced ingredients and that means sweet with a good chili kick.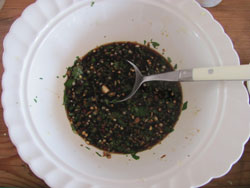 There's the sweetness from the sugar, saltiness from the soy and Thai fish sauce, all rounded off with a bit of chili heat. For Oriental flavor this is the marinade for grilled chicken that I just can't get enough of.
My favorite for this marinade is chicken thigh, skinned and boned, I marinate for an hour but you can do longer if you wish. The longer you marinate the deeper the color!
If you have any fresh coriander left over after making the marinade, put it to one side and use it as garnish for the finished dish.
Yield:- ½ cup or 110ml

Preparation Time:- 15 minutes
Marinade Time:- 1 hour
Cooking Time:- 20 minutes (for chicken thighs)

Total Time:- 1 hour 35 minutes

Ingredients:-
1 chopped lemon-grass stalk
1 tablespoon chopped fresh coriander
1 inch cube ginger crushed
2 cloves garlic, crushed
1 red chili, chopped (with seeds)
2 tablespoons soy sauce
2 tablespoons Thai fish sauce
1 tablespoon sherry
1 tablespoon sugar
Method:-
Not much to it really other than one piece of advice I have for you about the ginger. First of all peel it, then roughly cut up your 1 inch cube and squeeze gently in a garlic crusher – I say gently because if you're too aggressive it'll end up all over the place. All you need in your marinade bowl is the juice and any flesh that comes through the crusher (discard the dry pulp that remains in the crusher).
After that it's just a matter of adding all the other ingredients, giving it a stir and then it's ready for your chicken. (As I said earlier I like to use either boneless thigh or you can use breast if you prefer. Whichever suits, just make sure that the skin is removed).
Throw in your chicken and marinade for at least an hour. You can also brush the surplus marinade on the chicken during the cookout.
Note: - If marinating for an hour you won't need to refrigerate but please do so if you choose to marinate for longer. Ensure that your meat is back up at room temperature when you are ready to grill because this allows for a more even cooking.
See Also:-
Quick Grilled Chicken Marinades
Thai Spiced Marinade For Grilled Shrimp
Barbecue Marinade Lamb
Orange BBQ Marinade
Grilled Chicken Marinade Recipe
Marinade For Grilled Tuna
More Barbecue Marinades
Return to Gas Grill Recipes from Sweet Chili Marinade For Grilled Chicken