Monolith LeChef With Buggy

To order your stainless steel framed Monolith LeChef with buggy simply choose your colour:
Price: £2,295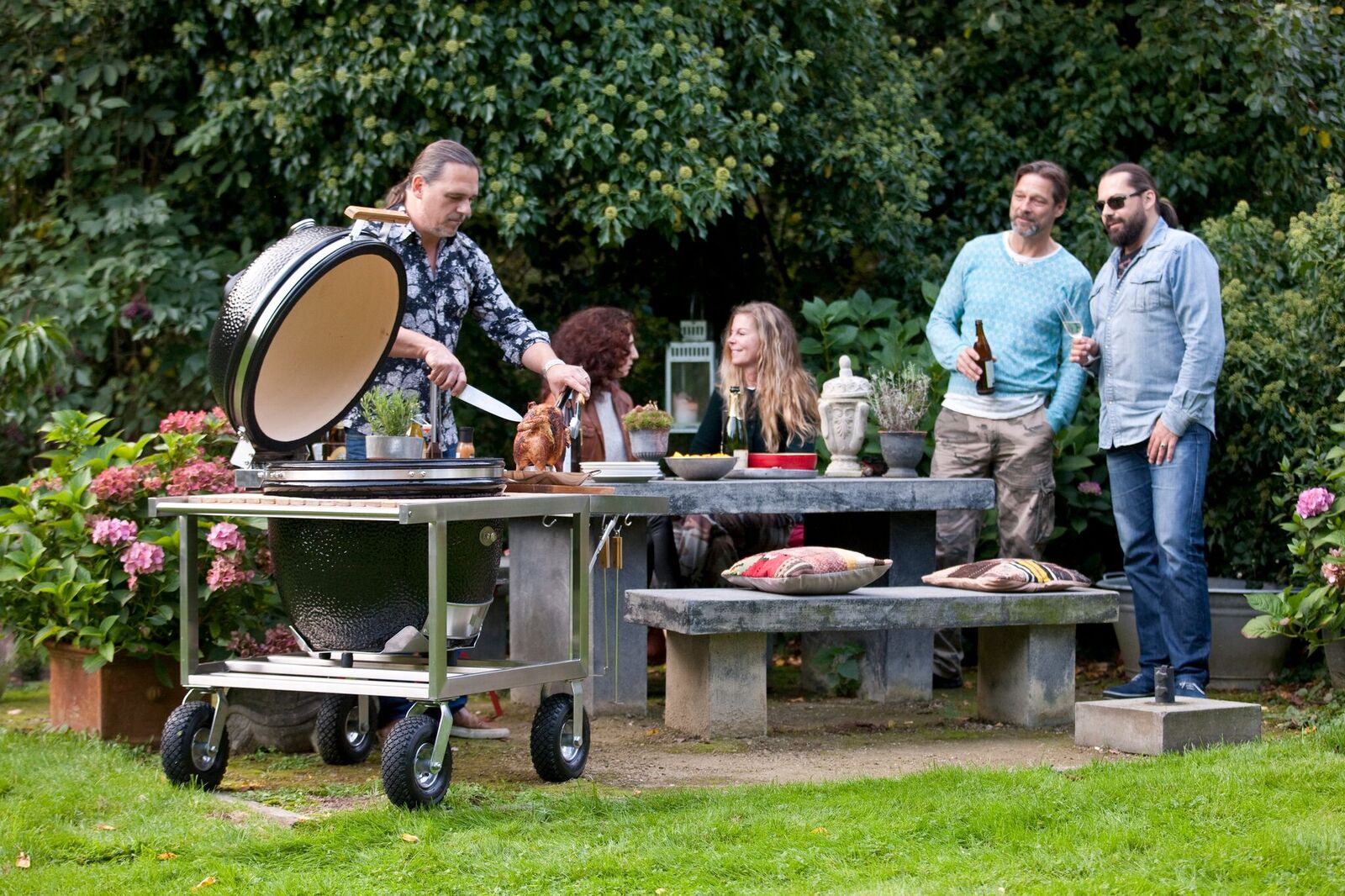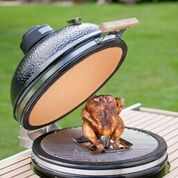 Dimensions:
Overall Height (including Cart) - 135cm (53 inches)

Length Of Buggy shelf down - 94cm (37 inches)


Length Of Buggy shelf up - 144cm (57 inches)

Width Of Buggy - 80cm


Dome Width - 72cm (28 inches)

Dome Depth (including handle and hinge) - 80cm (31.5 inches)

Cooking Grill Area - 55cm (22 inches) for the first tier

Weight 140 Kg
Item Description:

The Monolith LeChef with buggy is contained in a stainless steel frame with teak wood finish to the table top. The base of the buggy is again stainless steel and your LeChef sits on a shock absorbing plinth secured directly to the frame by four rubber shock absorbers. 

In addition the buggy is moved on 13cm (5 inch) wheels with pneumatic tyres and two of the wheels feature locks so siting your Monolith on sloping or uneven ground is all in a days work.
To one side of the buggy is a 50cm side shelf which can be collapsed for easy storage or transportation.

Size-wise the Monolith LeChef is the equivalent to the Kamado Joe "Big Joe" and the Big Green Egg XL however what sets the Monolith apart from other kamado brands is the bundle of accessories which is included in the price:
2nd Tier Stainless Steel Cooking Grid

Split Ceramic Heat Deflector Stones With Lift

Stainless Steel Charcoal Basket with Divider

Grill Grate Lifter

Pizza Stone
A kamado gives true versatility in the temperatures and methods of cooking but only Monolith provides all the necessary accessories as standard to make sure you get the most out of your kamado from day 1.
In addition, all Monolith kamados feature:
Stainless Steel Bands and Hinge

Unique Smoke Wood Pellet Feeder System

10 Year Warranty On Ceramic Parts
The stainless steel bands and hinge ensure that your Monolith looks good year in year out whereas other brands remain susceptible to rust.
The smoke wood pellet feeder system is unique to Monolith. It consists of a hinged access to the firebox and a feed chute so you can add more wood pellets to fire without the need to remove the lid. Just open the hinged access hatch, insert the feed chute and push the wood pellets into the fire with the tool supplied.
Related Products For Monolith LeChef With Buggy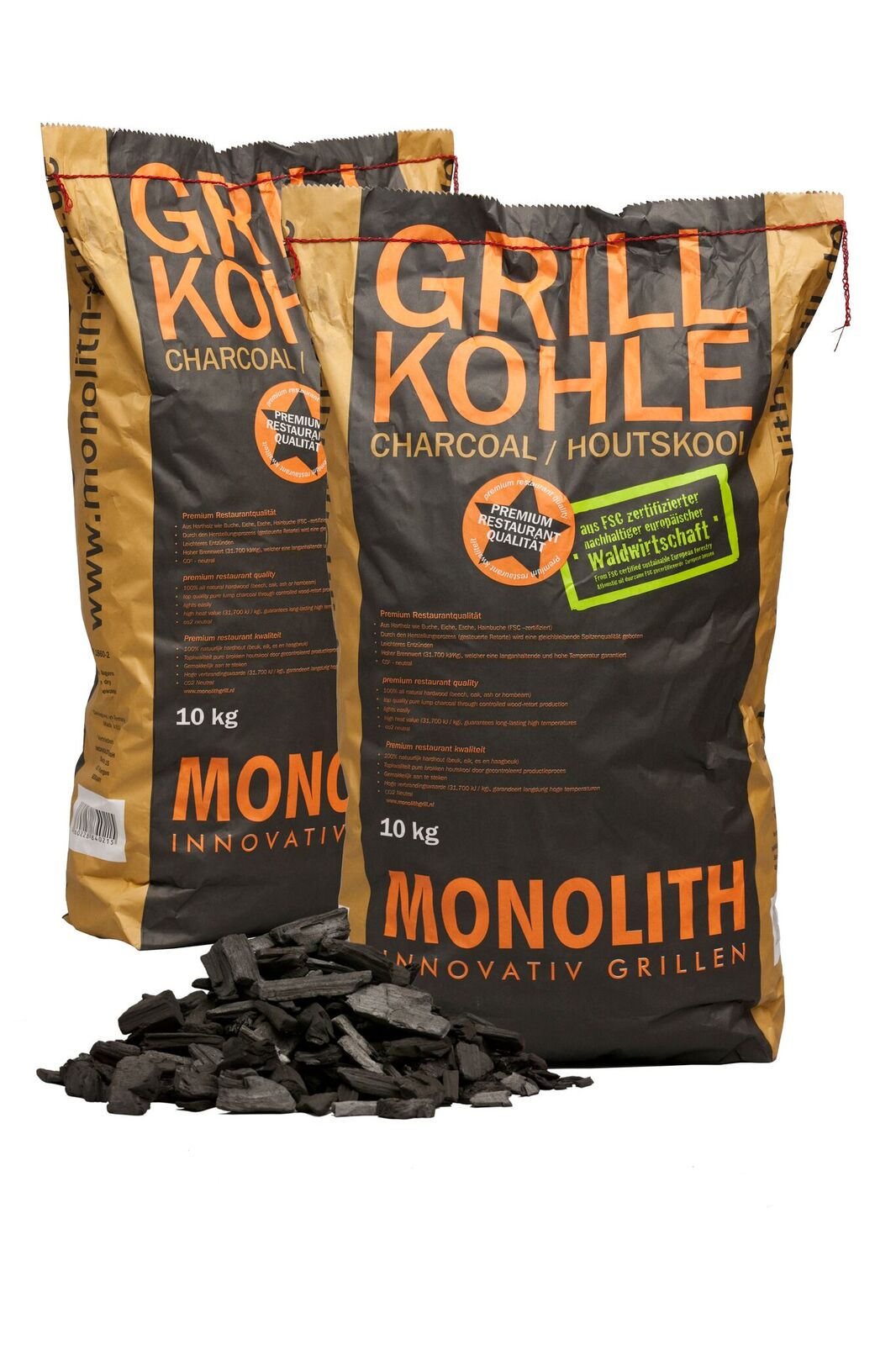 Charcoal 20Kg
Buggy Cover For Monolith LeChef
Orders & Delivery

Orders over £40 are delivered Free of Charge excluding Highlands & Islands.
Orders under £40 = £5.95 shipping (excluding Highlands & Islands)
Orders under £25 = £9.95 shipping (excluding Highlands & Islands)
We also deliver to the Republic Of Ireland where palletised orders are subject to a surcharge of £40, other parcels on request.
Place your order today and our standard delivery time is 2-3 days subject to stock (5 to Republic Of Ireland). Upon receipt of your order we will email confirmation to you and request a contact telephone number for the carrier.  
We deliver Monday to Friday between the hours of 8am & 6pm. Items on pallets will be delivered "kerbside" via nationwide pallet haulier.
Should any item you order be out of stock then we will contact you to agree an extended delivery time or immediate refund if required.
All our prices are inclusive of VAT.
Return to Monolith From Monolith LeChef With Buggy