New Braunfels Smokers - Hondo
Let's be up front here. The New Braunfels smokers (Hondo) are actually now part of the Char-Broil range of smoker and grill family.
What was once a large range of Hondo Smokers has now been reduced down to only two that are available to buy (according to the website) from new owners Charbroil. They are the Hondo Junior Offset Smoker and Hondo Offset Smoker respectively but would you really want to buy one?
Sad to say but the general consensus out there from the more experienced barbecue enthusiasts is that although the new version from New Braunfels was an improvement over their earlier version (see note below), now that the manufacturing has been taken over by Char-broil no further improvements have been made (ok, I admit they added their own handles).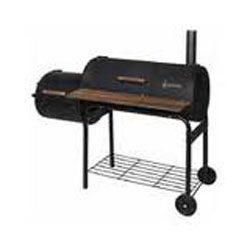 In fact a number of models dropped off the radar altogether.
'Each and every model of the original New Braunfels smokers were better', said one critic to me. The changes made by New Braunfels themselves were to upgrade from what everyone agreed was 'a very flimsy smoker with several bad design features' to something 'heavier and much better designed with cast iron cooking grates instead of the thin porcelain coated wire grates'.
Not really important but of interest none-the-less is that the New Braunfels Smokers use the same grates as an old (Char-broil) Eldorado.
One of the most annoying features (or non feature) is the lack of temperature gauge. If you already own one of these units, a good tip I came across was to buy a thermometer of the type that you can use through the hole in the pit – as you always need to know what the temperature is.
These units were pretty good for 'newbies' who don't want to shell out a fortune then but given the less than rave reviews I don't think that they will be sorely missed.
Vital Statistics:-
Hondo Junior Offset Smoker
Size:46.3 x 17.5 x 43.8 inches
Primary Cooking Surface 288 sq. inches
Secondary Cooking Surface 138 sq. inches
Fuel Source: Charcoal
Grilling Surface Height30.5
Hondo Offset Smoker
Weight:105 ponds
Size: 58.3 x 28.3 x 41.3 inches
Primary Cooking Surface 670 sq. inches
Secondary Cooking Surface 355 sq. inches
Fuel Source: Charcoal
See Also:-
Gas Grill Reviews
Barbecue Grill Comparisons
Meat Smokers
Big Green Egg Smoker And Other Kamados
Plancha Grills
Patio Furniture
Barbecue Grill Accessories and Gift Ideas

Page Updated May 2012
Return to Water Smoker Recipes from New Braunfels Smokers - Hondo