Outback Barbecue Grills Review 2012
Outback barbecue grills are probably the leading BBQ brand in the UK being sold through many of the large garden centres and when my brother in law phoned me to tell me he'd bought one I just had to get up there and find out more.


I first asked him why he'd gone for Outback and he said it was because of build quality. He'd checked out other brands readily available in the UK such as Weber and Coleman but decided that the build both looked better and "felt" better on the Outback. Just more robust all round.
The model he'd gone for was the 1000i which has a hot plate, grill, side burner for sauces and a rotisserie although he hasn't used the rotisserie yet, still preferring the old charcoal spit roast.
Given that he already has a charcoal grill, why did he want a gas grill? "It's simply for when there's a nice evening and you just fancy slapping some steaks or chops on the barbie" was his reply. The grill is good for searing whilst the hotplate serves well of veggies, burgers and sausages. He had tried sausages on the grill but found that they just got burnt.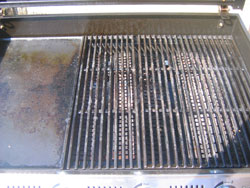 Any complaints? None regarding the build quality. His main concerns were two fold:
High consumption of gas
The small size of the searing plate
In essence this last point really related to the split between the size of the searing plate and the grill. He finds that when it comes to those spontaneous cookouts then it tends to be easy food such as sausages and burgers. He would prefer to have a larger area for searing food.
I predominantly grill over charcoal and this last comment really does make me thing whether there is one single grill to suit all occasions. Even my brother in law who confesses to not having the patience for a charcoal grill still sees that charcoal has it's part to play and he won't part with his charcoal grill.
It also makes me wonder whether he should have gone for a plancha hotplate grill in the first place.
So I got chance to quiz him and view his choice but not to road test it. I did go for lunch and the barbecue was alight, but it was the charcoal one! I guess that just says that given time, it's not the cooking that interests him, it's the playing with fire. I can sympathize but let's not take anything away from Outback barbecue grills.
Looking at the complete range my one criticism would be that none of them have a smoke box option so I guess the popularity for smoking has yet to hit the UK. I'll keep trying.
See Also:-
Review Your Barbecue Equipment

More Barbecue Grill Comparisons

Information About Smokers

Build A Barbecue

Grill Islands

Patio Furniture

Page Updated May 2012
Return to Home Page from Outback Barbecue Grills Review 2012