Plancha Grilled Crayfish Recipe
When my neighbor Simon saw my Red Hot Plancha for the first time his immediate reaction was "Freshwater crayfish will go fine on there" so sure enough, we went crayfish fishing the next weekend in the River Wharfe and dined on plancha grilled crayfish.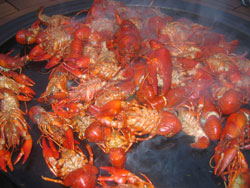 To get good quality shellfish where we live is difficult so imagine my delight at having this fine delicacy on the doorstep – it was like getting lobster for free!
Now it's fair to say that there really isn't a recipe here, it is just a technique for cooking the crayfish using a table top gas grill but then when it comes to cooking crustaceans sometimes less is more.
In essence the technique is to cook the crayfish first and then to warm them by searing on the plancha or searing plate, the last minute wine a just adding some steam, maybe some flavor and a bit of fun!
We killed the crayfish using the most humane method and then boiled them for a couple of minutes to ensure that they were cooked through. Then we left them to cool.
In the evening it seemed like the whole village came round to try crayfish a la plancha! I warmed up the plancha grill until it was nice and hot, drizzled on a little chili oil and then threw on the crayfish – the sizzle got everyone ready for the feast that was upon us.
Before finally allowing my guests to pick their first directly off the plancha I poured on a glass of white wine and watched the steam rise.
I then turned the plancha on low and let everyone pick and choose, served with wedges of lemon and scoop of mayo or more chili oil.
They say that stolen fruit always tastes nicer, well there's something to be said for free food too, especially when you've caught it yourself – and it's in the crayfish claw!
See Also:-
How To Kill Crayfish Humanely

Red Hot Plancha

Barbecue Grill Comparisons

Barbecue Fish Recipes

Return to Home Page from Plancha Grilled Crayfish Recipe