Smoked Mackerel Dip
Serving a smoked mackerel dip is a great way to start the BBQ party. You can prepare it in advance and all you need is some freshly cut celery of carrots and you're ready for dipping. Make it a bit thicker and you can serve it as a smoked mackerel pâté too.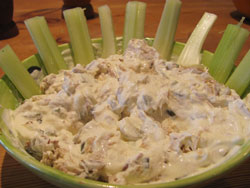 You can of course buy the smoked mackerel but if you really want to have the best then there's no better than smoking it yourself. Home smoked mackerel is so much more succulent than anything that you can buy in a vacuum pack so if you fancy having go, click through this link to my hot smoked mackerel recipe.
Once you have the mackerel, the dip is really easy to do, just pull together the ingredients and follow the method statement below.
Serves:- 4

Preparation Time:- 10 minutes
Refrigeration Time:- 1 hour
Cooking Time:- n/a

Total Time:- 1hour 10 minutes

Ingredients:-
Method:-
Spoon out all the ingredients (with the exception of the mackerel) into your serving bowl and mix together well.
Now take your mackerel filet and remove the skin, flake it into the mix taking care not to break it up too much. Using a spoon gently fold the mackerel flakes into the mix.
There's no more to it than that, just refrigerate for one hour to let the flavors mingle or until you're ready to serve.
See Also:-
Hot Smoked Mackerel
Smoked Fish Recipes
More Barbecue Fish Recipes
Grilled Mackerel Salad

Page Updated May 2012
Return to Water Smoker Recipes from Smoked Mackerel Dip