Thanksgiving Smoked Turkey Recipe
This makes for a great Thanksgiving smoked turkey recipe but it works well at any time of year. It's also an excellent bbq party recipe because the turkey can be left to stand while you grill the rest of the food.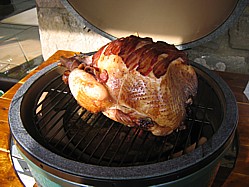 If you can afford an organic turkey then go for it. It's a little more expensive but you pay for what you get these days and the quality and flavor abound.
Whether you go organic or not the general rules for smoking turkey still apply and these are:-
The turkey weight should never be more than 13 pounds.
30 minutes per pound at 225°F or 110°C
Use a temperature probe to check for the correct internal temperature (165°F or 74°C)
Leave your cooked turkey to stand for 60 minutes before carving (this seals in the juices)
I always start my turkey off well in advance for two reasons.
Firstly if I need more time I've got it. Sometimes half way through you can lose temperature if you're working on some other stuff and forget to tend your smoker (easy done on the big day) so having a few hours extra affords you that flexibility in the face of the unexpected.
Secondly, if you're ahead of time you can just rest the bird for a little longer. You might like to try resting your bird upside down to let more juices solidify in the breast. Don't worry even if the bird is resting for 3 hours, that big a mass won't go completely cold and speaking from a food safety perspective it still wouldn't be cool enough to put in a normal domestic refrigerator anyway without compromising the rest of the food in there.
Serves:- 10-12 people

Preparation Time:- 30 minutes
Cooking Time:- 4-5 hours dependent on weight
Resting Time:- 1 hour at least

Total Time:- 5-6 hours 30 minutes

Ingredients:-
One turkey (preferably organic)
250g or ½lb streaky bacon
2 tablespoons brown sugar
2 teaspoons dried chilli flakes
1 bulb of garlic (not peeled)
Method:-
Carefully put your hand under the skin of the turkey breast from the neck end and separate the skin from the flesh without tearing the skin.
Mix up the brown sugar and dried chilli flakes and rub them on the flesh of the breast under the skin.
Place the garlic bulb in the cavity
Once your smoker is up to temperature pop the bird in and give it the full time as recommended above at 225°F or 110°C.
After the allotted time, remove it from the smoker, rest for 60 minutes and now you're ready to carve the most succulent Thanksgiving BBQ turkey!
Related Pages:-
More Great Thanksgiving Recipes

Christmas Barbeque Turkey Recipe
Tips For Cooking Smoked Turkey
Whole Turkey Breast

Turkey Pieces For The Grill

Return to Home Page from Smoked Turkey Recipe