Tailgating Recipe Ideas And Menus
Menus and tailgating recipe ideas for the football season. They need to be fun, easy to grill and above all tasty! Many of my recipes below can be prepared a little in advance and that makes the whole tailgating event that much easier to cater for.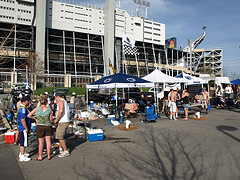 As someone of European origin it took me a while to get used to the idea of tailgating because the expression in UK English means something completely different.
If you were to ask an Englishman what tailgating is he would desribe somebody driving too close behind him at high speed on the motorway, something a million miles away from opening the tailgate in the stadium car park and enjoying a barbecue cookout ahead of the ball game.
And as you can see in the picture above, it's not just the tailgate that get's opened, many come equipped with everything bar the kitchen sink (and some even bring that). There's seems to be a whole industry built around it.
So for tailgating recipe ideas I've got a load of finger food for you, just check out out barbecue food appetizers, all of them are great on the grill.
Keep it simple with my grilled hamburger recipes or why not plump for a hot dog?
Easy to pack, quick to grill and bursting with flavor, that has to be the order of the day and if you fancy something a little more sophisticated then prepare in advance and go for one of my barbecue rub recipes. Simply take your chosen spice mix in a shaker and when you get to the stadium, up end the shaker and liberally apply to a steak or a chicken breast.
If you're new to the tailgate grilling check out my how to grill guide where you'll find all the tips and information to ensure that your first outdoor cooking event goes off perfectly.
But above all.........enjoy the game!
Note: - The concept of having a picnic in the car park prior to a rugby match is starting to take off in the UK. I don't particularly like rugby but it is always worthwhile spending some time in the car park and seeing what's on the menu!
See Also:-
More Barbeque Menu Ideas
BBQ Menu Ideas By Region
Return to Gas Grill Recipes from Tailgating Recipe Ideas And Menus