BBQ Smoker Hire UK
& Hog Roast Equipment
BBQ smoker hire UK wide coverage whether you are in London, Birmingham, Manchester, Newcastle or Glasgow. More locally we do hog roast machine hire Lancashire & North Yorkshire.

Of course we understand the desire to "do it yourself", after all it's the passion for outdoor cooking that inspired us to start this business. Hiring is also a cost effective way to put on an outdoor catering service for your party or community event.

Since we started making commercial standard BBQ smokers for sale here in the UK, many customers have asked us if they can hire from us…and the answer is yes. We offer our big trailer units as a UK wide service and our smaller charcoal grills and hog roast machine hire more locally to us in Lancashire and North Yorkshire.
Cook And Serve Barbecue

These units are great for sausages and burgers en masse.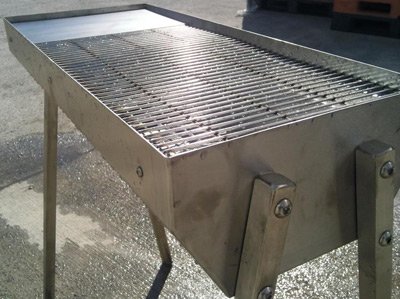 Mounted on casters, these units a portable and easy to set up. We deliver, you cook, we collect. Delivery and collection is free within a 15 mile radius of Gisburn (right on the Lancashire / North Yorkshire border) and 45p / mile + VAT thereon.
You can hire these units for the day or weekend:
Daily Hire Rate: £75.00 + VAT
Weekend Hire Rate: £100.00 + VAT
Payment is required in advance to secure your booking.

Trailer BBQ Smoker Hire UK Wide
Wedding, private function or charity event, our equipment is simple to set up, easy to control and virtually unbreakable. We'll offer guidance too so that your event passes off successfully, cost effectively and most important, hygienically.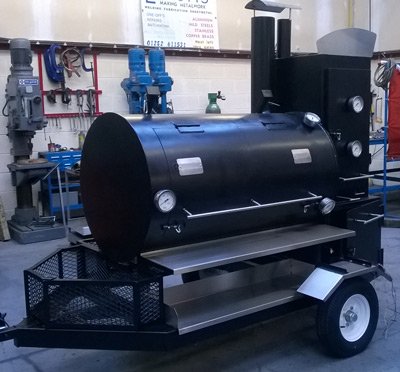 You can use our trailers as BBQ grills, smokers or both and there's plenty of room whether your planning on doing a hog roast or lots of smaller cuts of meat.
Because we also run a catering business we can also advise or help source the essentials cost effectively right through from napkins, bread rolls, home-made sausages or even the whole pig.
Note that when you hire hog roast equipment from us you get the real deal, a charcoal fired unit that cooks a whole hog in a food chamber mounted on a trailer, not some small spit roast cabinet that serves up dry meat and burnt crackling (OK we are a bit biased).
Trailer is un-braked with greased tow-ball and safety chain. Electrics (tail lights & indicators) are connected using standard 7 pin plug. All doors lock for safety during transit and night security. Front and side storage baskets can be used to store wood, charcoals, gazebo etc. Trailer weight is approximately 1000Kg and can be towed by most by most medium sized cars, vans and trucks.
All prices are based on collection from and return to our HQ in Lancashire. Delivery and collection can be arranged at additional cost.
Weekend Hire Rate: £299.00 + VAT
Pick up on Friday afternoon and return Monday before noon.
Notes:
For happy BBQ smoker hire, UK or EU Driver's license will be required together with proof of insurance.

A

£50.00

deposit is required to reserve your unit over and above the rates stated above. This fee is non-refundable should you cancel your reservation within 2 weeks of the reserved date. It will be held until the unit is returned in the same state of cleanliness as received. Should additional cleaning be required this £50 deposit will be forfeited to cover the cost of cleaning.

All customers are required to sign a Rental Agreement.
Long Term Hire

Want to set up a street food catering business on the minimum of capital? Then we can help whether you have a wedding venue or catering business, or maybe you're looking for a new street food opportunity.
7-Days BBQ Smoker Hire UK:   £499.00 + VAT
Duration any seven days.
If you are a wedding catering business or venue that wants to add the barbecue dimension, or a new street food business, please contact us and let's discuss a long term hire arrangement.
Extras
Our BBQ smoker hire UK rates are for the equipment only. Extra costs to consider:-
Fuel - We can provide hardwood and charcoal
Meat - Anything from sausages and burgers, choice cuts to whole hogs. We buy competitively for our catering business and can pass the savings on.
Delivery - It's free within a 15 mile radius and then charged at £0.45 / mile thereon, you can of course collect.

Commercial Smoker User Guide

Before hiring one of our BBQ smokers we recommend that you read our user guide and understand how to operate the equipment.

BBQ Smoker Hire UK Street Food

You may want to consider our BBQ smoker hire UK service if you're thinking of setting up your own streetfood business. Certainly our experience is the sight of one of our units smoking away at any festival really is a magnet for the crowds.
In our view a successful street-food BBQ business needs four things:-
Quality food

Theatre…people like to see food cooking and our trailer smokers naturally ignite customer interest
Customer rapport – that's you! 
The right event / pitch – Our trailer BBQ smokers offer event organisers something different from the average burger van and that's what gets your foot in the door. It's big, it's visible and it attracts interest.
We operate our catering business in Lancashire (because that's where we live) and we find that there are enough events annually in this one county for us to make a living and we still cover only a fraction of the events in our county.
School Fetes
Farmers Markets
Private Functions (Weddings & Corporate Events)
Food Festivals
Town Shows
Country Shows
Game and Country Fairs
Sports Events
If you are setting up a new business we recommend that you do some searches on the internet and see how many events are available near where you live. Call a few event organisers and gauge their reaction to you rocking up with a true American barbecue smoker. If you believe you have a market opportunity then please, before you contact us or invest any of your money in any equipment, make contact with your local Environmental Health officer. He or she is there to protect the public and help you start your business with the appropriate processes and equipment to ensure that your business operates with that in mind. They will help and advise (not close you down before you even start) so you get it right first time and that will save you an awful lot of heartache and money in the process.
Once you have Environmental Health on board, please contact us. Not only do we have the ability to create something different, we can also work with you and advise on all aspects of your offering eg. Serving tables, Gazebos, sourcing ingredients etc.
We can do cost effective long term BBQ smoker hire UK agreements or two year UK hire purchase agreements
One last tit bit of advice from us:
Start small. Hire hog roast equipment and do some markets and school fetes. Yes, you're revenue potential (and therefore profit) will be less but your pitch fees and therefore your risk is small too (pitch fees usually between £10 - £25 per day and payable on the day of the event). This way you get to learn your trade, fine tune your processes and learn what sells.
If you go all out for the big events right from the start you'll start incurring up front deposits, serious pitch fees (between £150 - £500 for a day) and you'll need to serve a good volume of butties to cover your costs. If your offering is wrong, your processes aren't efficient or indeed your pricing is wrong, you'll lose your shirt.
See Also:-

Hog Roast Machine Hire Lancashire & North Yorkshire
Stainless Steel Charcoal Grills
Stainless Steel Fire Pits
Replacement Stainless Steel Cooking Grates
Commercial Smokers UK Built
Barbecue Catering
Return to Qué Fresco Home From BBQ Smoker Hire UK
Hire Hog Roast Equipment