Dragon Fire Kamado Ceramic Barbecue - Should You Buy One?
The Dragon Fire kamado comes complete with all the necessary accessories, something that's not always true about other ceramic barbecue grills so the price you see is that price you're going to pay. A kamado is always going to be a sizable financial outlay (especially if you choose a Big Green Egg) so it's important to make sure that when you're budgeting you know what's included and what's not.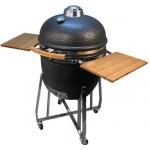 If you've read up on kamado ceramic barbecues, you'll know the basic claims that all manufacturers make:-
Supremely economic
Ready to cook in 15 minutes
You can use it as a smoker or a grill
Excellent moisture retention in the food
Having cooked on a kamado myself for a couple of years, I can tell you that these beasts do exactly what they say on the tin. I wouldn't be without mine although I still do have a resource of alternative units for other things such as a cold smoker and a rotisserie.
The Dragon Fire kamado tries to differentiate itself by using stainless steel fittings and fastenings which I have mixed feelings about. Yes it looks good but:
A cast iron daisy wheel on the top damper is much more resilient and easy to take apart in order to clean.
Stainless steel (if type 304) will not rust
Stainless steel does have marginally greater thermal expansion when heated. The argument here (and made loud and clear by Big Green Egg) is that the banding which secures the lid is more likely to come loose when the kamado is heated. My calculations suggest that the difference in thermal expansion is approx 1.5mm which should'nt prove significant.

That said, it doesn't add cost when it comes to the internals and I'd much rather have a porcelain enamel grill grate than stainless steel.
The Dragon Fire price also includes the cart (I wouldn't be without mine) that allows for easy movement around the patio or backyard. It's not the best cart on the market by a long way so I would take care if moving my kamado in one of these, that said, when it comes to cost comparisons, make sure that you are comparing apples with apples and check what extras are included in the basic price.
Where Can You Get A Good Deal On A Dragon Fire Kamado?
This is where it becomes difficult because there's nowhere currently on the internet that stocks the Dragon Fire so to fully research this I went to the manufacturers website to find only one page complete, there rest of the site under construction and dated 2011.
Looking closely at the web picture and I conclude that Dragon Fire were importing and branding a generic Chinese clone kamado and have decided not to continue their operation.

I'll keep my eye on it but at the time of writing I would be extremely nervous about buying one of these kamados without a lot of re-assurance about customer support & warranty.
Other brands to check include:-
Monolith
Primo
Grill Dome
Kamado Joe
Big Green Egg
Bubba Keg Convection Grill
Many of these can be bought through the dedicated kamado center at ShoppersChoice.com.
They have a good comparison feature too so that you can make that all important "apples to apples" check.
Related Pages:-
Kamado Cooking
Changing A Kamado Felt Gasket


Return to Home Page from Why Should You Buy A Dragon Fire Kamado Ceramic Barbecue