Lemon Grilled Cabbage Recipe
Make lemon char grilled cabbage with this recipe and deliver something different to the dinner table.
For this recipe I'm going to cut the cabbage into wedges and cook them on the charcoal grill but if you want to do it in a grill pan than that's perfectly OK by me.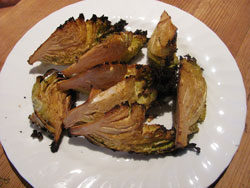 Grilled cabbage isn't to everyone's taste so don't worry if your try it and don't like it. The flavour sensation that you are looking for is a slightly bitter char with some softness (where the cabbage has been cooked) and some crunch (where the cabbage remains raw).
And now I'm going to confess, I don't particularly like it. For me it's a bit like the concept of grilled watermelon.

There's two things to remember to ensure that you get a good result:-
Cut wedges that are quite thin, that way the cabbage cooks all the way through before the edges get severely burned
Ensure there's a bit of the core of the cabbage in each wedge, that way the cabbage stays together and doesn't end up as a load of leaves.
Serves:- 4 people

Preparation Time:- 10 minutes
Cooking Time:- 30 minutes

Total Time:- 40 minutes

Allergens:
My grilled cabbage recipe has no allergens assuming that you use freshly squeezed lemon juice. If using bottled (and there's nothing wrong with it) just be prepared for sulphites which are added to the bottle as a preservative.

Ingredients:-
1 savoy cabbage
Juice of one lemon
4 tablespoons extra virgin olive oil
Salt and freshly ground black pepper
Method:-
Trim the out leaves of the cabbage and give them to your neighbor's rabbit. Cut the cabbage in half and then cut each half into 4 wedges ensuring that there is some of the cabbage heart remaining in each wedge.
Mix up the olive oil and lemon juice in a jug, place the wedges core side up and drizzle the olive oil and lemon juice mix so that it permeates all the leaves (be generous because it's this moisture that will soften the cabbage). After a good helping of salt and pepper, place the wedges on the grill and give them about 10 minutes on each of the 3 sides of the wedge.
Keep brushing more of the citrus oil on the cabbage throughout the cook process because this will continue to add flavor, keep things moist and stop the outer leaves from burning.
See Also:-
More Easy Grilled Vegetable Recipes


Return to Gas Grill Recipes from Lemon Grilled Cabbage Recipe