05 December 2017

Pulled Pork Suppliers
UK Wide Delivery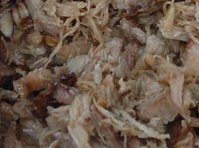 Pulled pork suppliers, uk wide overnight delivery, fresh and ready for you to serve up to your customers.
Our produce is different to many others:
Quality – we use prime cuts of meat so you won't find any traces of skin or gristle

Freshness – We vacuum seal and pasteurise so your pulled pork arrives fresh and not previously frozen

Our core markets include food festivals, event stadia and large single or multiple retail outlets to which we also supply pulled beef, pulled chicken, or pulled ham hock.
Use the links below to see our delivery service options:

The Best Value Pulled Pork

Best value is top quality cooked pork that yields a low cost portion price for your business. We supply:
100% pork, you can mix 1kg of our pork with 1 litre of your favourite sauce and a typical 100g serving costs you just 75p or less.
Fresh pasteurised pork with a 3 week shelf life, you can freeze later so zero food wastage.
Recyclable cardboard packaging - no polystyrene to dispose of.
Delivery is included in our prices - no hidden extras.
You can buy any combination of pulled pork, pulled beef, pulled chicken, or pulled ham hock.
Local Delivery - North Of England

Minimum order quantity using our dedicated delivery service is 10 Kg. Prices start at just £9.95 / Kg with discounts for quantity, call Paul on 07814 500755 for more details and you can pay by card over the phone.
Our local refrigerated delivery service covers the M62 corridor and more:
Monday –

Manchester, Bolton, Bury

, Blackburn, Preston, Blackpool Liverpool
Tuesday –

Manchester, Bolton, Bury

, Stoke On Trent, Leeds, Hull
Wednesday – No deliveries
Thursday –

Manchester, Bolton, Bury

, Blackburn, Preston, Blackpool Liverpool
Friday –

Manchester, Bolton, Bury

, Stoke On Trent, Leeds, Hull
Pulled Pork Suppliers, UK Wide Delivery

For UK wide delivery we work in partnership with Igloo Thermo to provided a continuous chain chilled logistics service from factory to your door.
Delivered prices vary dependent on shipping quantity and delivery area. Our standard prices are as follows:

Chicken

£9.10

£8.90

£8.75

Call Paul on 07814 500755 or use the rapid response form at the bottom of this page for exact prices to ship to your area. You can pay by card over the phone.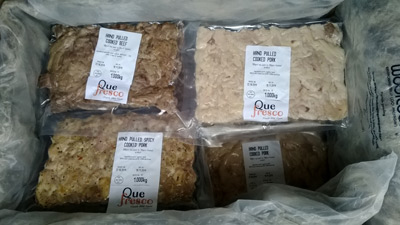 Our delivery lead time is 48 hours.
How To Prepare Pulled Pork

Compare the preparation of our pulled pork to cooking your own pork shoulders or worse still a whole hog roast, with our product you can offer your customers succulent pork without expensive equipment or the need for a minimum headcount.
It's a labour of love. Our pork is rubbed with our own special seasoning and roasted "low and slow" for 16 hours in the traditional ways of the Deep South. Our artisan cooking process delivers succulent tender pieces of pork that are then pulled apart by hand. 
We have invested in specialist equipment and developed a production process so that hot smoked pulled pork can be served up by any catering establishment in the UK using either a hotplate grill, bain maire or sous vide water bath.
When we're out and about we just warm it through in a large cast iron pot over hot coals - it works a treat.
The vac pouches compress the pork so when you break into a pack, work it apart with your hands and then pop it into your pan or bain marie, add the same weight in BBQ sauce and warm it through. You can then tong it straight into bread or toss on the griddle for a little extra theatre.

You can serve our pulled pork in the traditional "British" way with apple sauce and stuffing or use our recipes to make your own homemade barbecue sauces and top off with a crunchy coleslaw. Many of our customers use a mix of pulled pork and ham hock to get a chunky texture.
Note:- Our "street food" model is tried and tested. If you are thinking of setting up a street food business then please give us a call and we can help you set up with the minimum of cost and also ensure that you have quality produce to sell profitably from day one. We also manufacture trailer smokers so you can literally tow away an "off the shelf catering business".

Spiced Pulled Pork
Whilst our regular pulled pork is a blank canvas for you to add your own touch, our spiced pulled pork adds a different flavour dimension which is proving popular with sandwich bars and delis.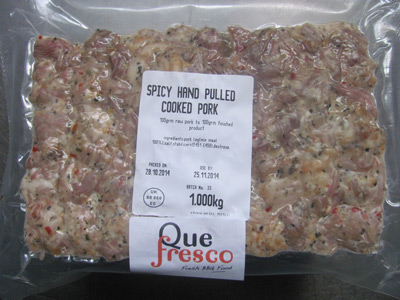 Packaged in the same vac sealed pouches you can mix and match your order with both flavours of pulled pork, pulled beef, pulled chicken and / or pulled ham hock.

"That real American "Que" flavour is available here in the UK – Enjoy!"
To find out more about this product or any other product made by Que Fresco, please call Paul on 07814 500755 or fill out the rapid response form below.
Return to Que Fresco Home from Hot Smoked Pulled Pork Suppliers UK