Que Fresco
Pulled Pork Supplier UK
Que Fresco pulled chicken, pulled beef and pulled pork supplier, UK delivery, supplied fresh (not frozen) exclusively to the catering trade. Manufactured in England from prime cuts of meat, a premium quality product is guaranteed.
Que Fresco is a small independent business and we care about the quality of the pulled meats that we produce.
We only use prime cuts of meat so you won't find any traces of bone or gristle.
We manufacture here in the UK and supply freshly made to order produce. This is not some frozen block of machanically recovered meat.
We vacuum seal and pasteurise our pulled meats in 1kg pouches. Each pouch has a chilled shelf life of four weeks from the date of production so you can also freeze leftovers. There is no waste.
Our pulled pork and pulled beef are a fine shed of pure meat, our pulled chicken is a little more chunky. We don't dilute our product with sauce so you are free to serve in the style that you prefer whether that be traditional BBQ, burritos, nachos etc.

UK Delivery
We supply pulled pork, beef and chicken using a dedicated refrigerated carrier so we can guarantee that your consignment arrives with you at a safe temperature and without masses of environmentally unfriendly polystyrene for you to dispose of.
Our shipping and quality standards mean that of all the pulled pork suppliers UK we are not the cheapest but we do consider ourselves to be one of the best.
Throughout the Summer we supply to many festival caterers and can provide site delivery if required.

Prices
The prices per kilogram below are for mixed consignments of pulled beef, pulled chicken and pulled pork supplied UK wide and in most instances carriage paid.
| | | | |
| --- | --- | --- | --- |
| | Pork | Beef | Chicken |
| 30Kg | £10.95 | £11.45 | £10.35 |
| 40Kg | £10.75 | £11.00 | £10.15 |
| 50Kg | £10.50 | £10.75 | £9.90 |
We can cover the core of the UK on a carriage paid basis but additional shipping costs may need to be applied. Please call us or fill out the rapid response form below for an accurate quotation.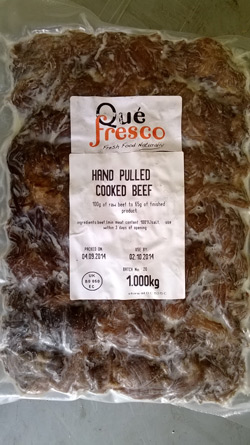 Further Information
Que Fresco Ltd sponsor this website and advertise equipment, products and services in return. Que Fresco supply and manufacture barbecue equipment in addition to their business as a pulled pork supplier UK.
Use this link for more information about Que Fresco together with terms and conditions of sale.