The Best Hot Smoked Pulled Pork Recipe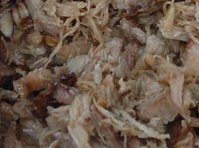 It takes a lot of cooking, harsh self criticism and continuous improvement to finally conclude that I have the best hot smoked pulled pork recipe this side of the Milky Way so this page will remain under construction until I'm absolutely convinced that I've got it licked.
Having been happy with the recipe that used to feature here I've had a few more ideas about how things could be done better so the whole page is under re-construction.
Apologies for this and in the meantime please browse the rest of my site and specifically for pulled pork lovers, try one of these three recipes:
Easy Pulled Pork - Get the right cut of pork and you won't be disappointed.
Traditional Southern Style Pulled Pork - Slow and steady, fantastic results.
Smoked Pulled Pork Recipe - No rub on this one, just a tangy mop & BBQ sauce.