22 Sep 2015

Pulled Beef Suppliers UK
Qué Fresco pulled beef suppliers UK wide overnight delivery to the catering trade, fresh and ready for you to serve to your customers.
Having started out making pulled pork, our pulled beef offering gives you another dimension to your menu without risk of wastage.
Our beef is supplied to you:
In 1Kg vacuum sealed pouches
Freshly pasteurised with 4 weeks shelf life from production
Lightly seasoned so you can add your own stamp
Take the guesswork out of your catering...we supply our produce chilled so that you have the flexibility to freeze any unused pouches.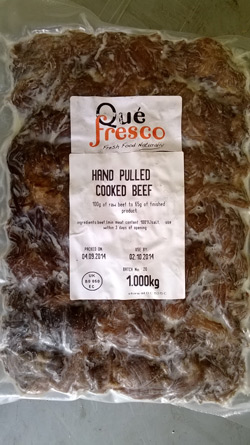 Serving Pulled Beef

A 1 Kg pouch will serve approximately 10 – 12 people and keeps fresh for 3 days once opened.
Break open the pouch, loosen the strands of beef in your fingers and pop it into a large pan or bain marie. Add your choice of barbecue sauce or a stock cube and some water then warm through, this process will gradually separate the strands of beef and provide you with moist pulled beef that you can either slap straight into a bun or toss on the griddle.
Don't just stop with beef stock, our pulled beef is a blank canvas ready for you to add your signature sauce and condiments. We like to serve our with a crunchy dry slaw (chopped white & red cabbage, grated carrot, sliced red pepper and sliced red onion) topped with English mustard or horseradish.
Pulled Beef Suppliers UK Delivery – How To Order
The vac pouches that we supply the pulled beef in are exactly the same as the pulled pork, pulled chicken and pulled ham hock so you can mix and match your order. All we ask is that you take a carton quantity of either 10Kg or 16Kg, just let us know what you want and we will price it up accordingly.
Our reliable carrier is APC Overnight and we use sustainable packaging from Woolcool that keeps our produce cool for up to 48 hours.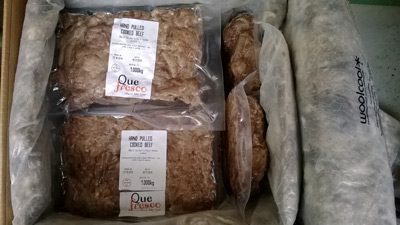 We make fresh to order. Place your order by 12.00 noon on Friday and your delivery will be with you either Wednesday or Thursday of the following week.
For larger orders (40Kg or more) we ship on dedicated refrigerated transport in multiples of 20kg and again you can mix and match with our other chilled pulled meats.

For more information about pulled beef supply, call Paul on 07814 500755 of complete the rapid response form below.

More Qué Fresco Barbecue Produce:
Pulled Pork
Pulled Chicken
Pulled Ham Hock
Gluten Free Sausages
Air Dried Bacon
Guanciale

Return to Que Fresco from Pulled Beef Suppliers UK