Honey Apple Brandy Glaze
For Smoked Pork

Your first My honey apple brandy glaze is the prefect mop for barbecue pork and you can have it made up in 15 minutes. paragraph ...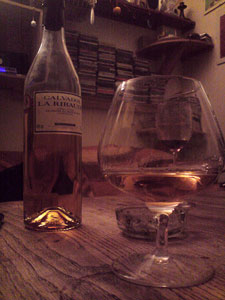 This recipe was created in an instant when we had run out of apples and if the results are anything to go by we'll have to run out of apples more often!
Today, as I write this recipe, it's a public holiday, I've got a lovely piece of pork that is perfect for smoking and my wife thought it would be nice to make some apple sauce. Just a minor problem............no apples!
What else has apple flavouring? Cider! Calvados!
Looking at the bottles I have available, this is going to be a Calvados glaze. Calvados is an apple brandy made in the Normandy area of France, it has beautiful apple flavours and the French use it extensively in cooking so why shouldn't we?
I've kept my smoked pork loin recipe very simple and then used this honey apple brandy glaze to bring out the full apple flavor.
Yield:- 1 cup or 240ml

Preparation Time:- 5 minutes
Cooking Time:- 10 minutes
Total Time:- 15 minutes

Ingredients:-
110ml or ½ cup Calvados
110ml or ½ cup cider vinegar
5 tablespoons honey
5 tablespoons brown sugar
Method:-
Tip all the ingredients into a small saucepan and bring it up to the boil. Simmer gently for 5 minutes (this helps any bitterness from the alcohol to burn off) and then allow it to cool so that you have a semi viscous glaze.
Spoon over your pork joint during the later stages of your cook out. Every half hour or so is good enough, you don't want to be doing it any more frequently than this otherwise you'll lose all the heat in your smoker when you lift the lid.
Special thanks to Sheriff Of Nothing for the Calvados photograph.
See Also:-

Well it's gotta be more alcoholic barbecue sauce recipes hasn't it?

Jim Beam Barbecue Sauce Recipe
Bourbon Barbecue Sauce - Three recipe variations of the Bourbon theme