How To Build A Brick BBQ
Finding quality plans how to build a brick BBQ is time consuming so I've selected the best on this page. Many people have asked me how to build a brick BBQ and whether I have the plans available so I took to the internet, did the research and this is what I found.
I've made countless searches on Google and found some quality stuff but I really had to wade through an awful lot of rubbish to find it. So rather than re-invent the wheel I thought that the best thing for me to do was use my site to filter out the rubbish and direct you straight to the quality information on how to build a brick BBQ.
Before we go any further however, take a look at the homemade barbecue grill that I built a couple of years ago and check out these homemade charcoal grills . The reason I suggest this is to help you think and plan exactly what it is that you want to build and also to demonstrate that you don't have to spend an awful lot of money to produce a functional BBQ grill.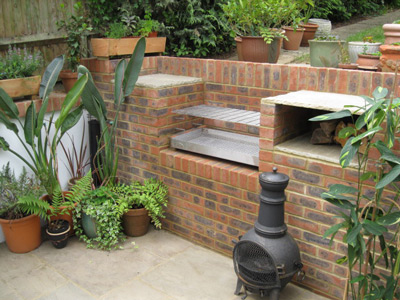 Plan also for your surroundings. Firstly make sure that your barbecue is going to built away from anything that is flammable and secondly think about the practicalities of your cooking space. Do you want an area to hold the raw food prior to cooking? How about an area to land things once they are cooked?
One other recommendation from me is to avoid those kits that you can buy where you effectively build 2 brick walls and slot in a tray for the charcoal and the cooking grate above. I used to have one of these and I quickly found that after a few cookouts and a good dose of rain, the charcoal tray rusted and collapsed.
If you are going to go for this style then make sure that you have a charcoal tray made from cast iron but the better solution is to have a brick base. You can see the one in the picture above is built to last, it isn't going anywhere.
I'm not the greatest DIY'er in the world so when I start a project I like to have good pictures and clear instructions and this has been my mantra when sifting through web pages to find the best quality sites.
To further simplify the process I've categorized the links into the basic styles and for the most enthusiastic DIY'ers out there.
Grills:-
BBC Gardeners' World - A set by step guide with pictures.
Allan Block - Plans, guide and pictures for a BBQ grill station into which you can slide your free standing barbecue grill.
Indistrucables.com - Go the whole hog and build the complete BBQ station.
Smokers:-
Homemade BBQ Smoker Plans - My very own design with easy to follow drawings designed for basic carpentry and no welding.
Smoke Oven Plans - Built by Claus in Australia
Mother Earth News - This one is way beyond my capabilities but maybe worth a look.
Brick Pizza Ovens:-
OK so it's not quite build a brick bbq but having a pizza oven in your backyard somehow rounds everything off as far as the outdoor chef is concerned so if building a brick pizza oven is your next challenge then these plans are for you.
And to finish I've got some interesting sites for your peripherals to help complete the outdoor kitchen.
BBQ Shelter - Plans for building the complete shelter, ideal for British weather!
Grill Kitchens - Assists in planning your Outdoor Kitchen Design, featuring Weber Gas Grills, Weber Charcoal Grills, Built In Gas Grills, Lynx Gas Grills and DCS Gas Grills.
Certainly this one isn't for me but if you are really into your DIY and want to go the whole nine yards and build a barbecue island then the place to start is the plans produced by Dave Jorde.
Related Pages:-
Barbecue Islands

Barrel Smoker Plans
The Most Elementary Brick Built Barbecue

More Information About BBQ Grills

Patio Furniture

Page Updated May 2012
Return to Gas Grill Recipes from How To Build A Brick BBQ