Best Smoked Brisket Recipes
I've got three smoked brisket recipes here that each add a different flavor dimension to your cookout. Smoking brisket on the barbecue is really easy and yet the taste is so superior to having it cooked any other way.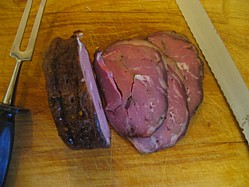 Brisket needs to be treated gently to ensure that you get a fine result, it doesn't take to the high heat of other cuts of beef, low and slow is the order of the day and that's where us smoking enthusiasts come in. It's perfect for the sort of cooking that we like to do.
Brisket comes from the belly of the cow and it's also quite fibrous. These fibers are collagen (not that you really need to know) and in order for you to finish up with a tender cut, these collagen fibers have to be broken down. The way to do it? You guessed it.......low and slow.
Not only is it versatile (you can slice it, chop it, make great sandwiches) it's also a very cost effective cut of meat so perfect for a party or when you're cooking for a lot of people.
The most common way to buy brisket is rolled and strung but you can also unravel it, brine and cook it to make the most wonderful pastrami. That recipe is below with all the others so take your pick, you can always come back for more.
Irish Smoked Beef Brisket Recipe - With a thick hearty Guinness Gravy
You can also use brisket to make the most wonderful pastrami. It takes a bit longer to prepare but once you've tasted your own homemade pastrami I question whether you'll every want to buy it in the shops again.
Below I've got some more information about pastrami and also both hot and cold smoking recipes using brisket.
About Pastrami:
Making Pastrami (Cold Smoked) Stage 1

Cooking Homemade Pastrami (Stage 2)

Return to more Water Smoker Recipes from Best Smoked Brisket Recipes