Barbecue?..Great idea!..
Try My Easy Barbecue Smoker Recipes
All you need for successful barbecue smoker recipes. There's easy gas grill recipes that will make you the toast of the town. Lots of BBQ tips and techniques together with water smoker and gas grill reviews helping you buy the right equipment to suit you. It's all here, and it's all free!
What's your favorite cooking method? Whether you prefer the portable grill, kamado cooking or meat smoker then barbecue smoker recipes has something here for you to try.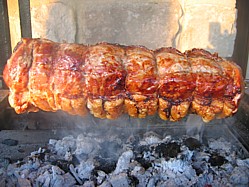 I'm Paul Yates & I've been an outdoor cooking enthusiast for over thirty years, I simply love it and it's great that you do too. I've cooked on a brick BBQ, a portable grill and a meat smoker and have lots of ideas to share.
If you're tired of cremations burnt to a crisp and still frozen in the middle and all you want is a great grilled hamburger recipe then you're in the right place. You'll even find loads of great tasty options for homemade BBQ sauce to try too.
Check out the Tapas Appetizers pages that will truly crown you the flame king or queen of your neighborhood - let someone else be the fire pits!
The trick is to keep your barbecue smoker recipes clean and simple with quality fresh ingredients. There'll be some exact measures on the fundamental ingredients but don't be surprised by measures such as "a splash of Tabasco or Worcestershire". After all what really matters is whether it tastes good to YOU!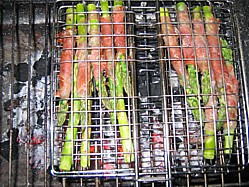 If you're into smoking then there's something here for you too. A full page of pulled pork recipes and tips or for something different why not try kamado cooking or plank cooking?
Look out also for the BBQ TIPS. You'll find there's a TIP on most pages to help you make the most of your cookout. And if all this is still not enough, there's pages of BBQ cooking tips following your questions right from your smoker questions answered to "where can I get that part I've been looking for"? And if that's not enough you can quench your thirst with your choice from my favorite barbecue cookbooks.
Paul,

"You are knowledgeable and provide great answers to a lot of the FAQs that most people just make assumptions about. I've never been able to smoke meat before but have always enjoyed it, this site provides a lot of good facts and information for the new smoker!"

thanks,
Molly

I'm also not going to fill this site with professional photographs. Every photo you see on barbecue smoker recipes has been taken by me and shows REAL food how it looks when I cook it.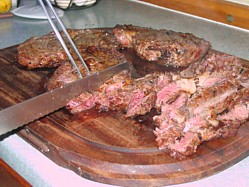 My guide now also extends to our own Outdoor Chef YouTube channel where you can watch step by step videos of the recipes too.
If you're looking to buy equipment then check out all the smoker and grill reviews. When you are ready to buy you'll find links to the best prices offered online whether that be through my own online Outdoor Chef's store powered by Amazon.com or others such as ShoppersChoice.com
or GrillsDirect.com
. Wherever the best deal is, I'll point you in the right direction.
Of course you might be able to tell me a thing our two as well, maybe you've got a favorite BBQ sauce recipe? Maybe you're a meat smoker with a barbeque recipe to die for? If so, please give me a shout and we can keep it a secret – just you, me and anyone with the good sense to bookmark this page or take my RSS feed for the Barbecue Blog!
ADD TO YOUR SOCIAL BOOKMARKS:

Blink

Del.icio.us

Digg

Furl

Google

Simpy

Spurl

Technorati

Y! MyWeb
To me, the secret of a good cookout is simple:
Good Quality Meat
Good Quality Cooking
Good Company
Good Wine!
Don't forget, today's a great day for a barbie, in fact, with barbecue smoker recipes everyday is a great day for a BBQ. Cheers!