American Style Commercial Smokers
UK Built Barbecue Trailers
American style commercial smokers UK built barbecue trailers. Custom made to your specification or built to our standard design, tow one away and your barbecue catering and hog roast business is pretty much up and running.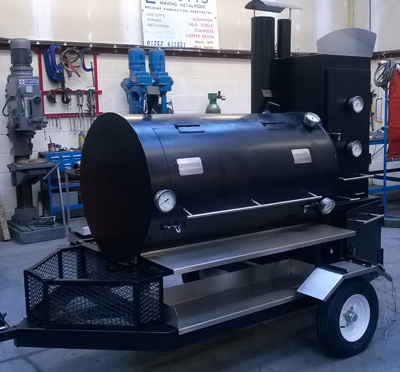 In addition to manufacturing our own range of barbecue grills and smokers, Qué Fresco also runs its own catering and barbecue food manufacturing business so when it comes to the design of commercial equipment we like to think we know what we are talking about.
We believe that there are three things to consider when catering
Practicality and cooking capability of the equipment used
The theatre and atmosphere created in serving the food
Quality of the food served
Given the three strands to our business we believe we have the experience to share how it should be done.
Imagine towing one of these beauties onto a food festival, town show or farmers market. With smoke billowing from the chimney, they certainly draw the crowds.
The Basic Design For Our Barbecue Trailers

This model is perfect for markets, shows and food festivals. Built on a 3m long chassis (designed to sit to the side / under a standard market gazebo) this unit consists of a cylindrical main food chamber which can be used either as a grill or reverse flow smoker, a large firebox with oven / smoker above.
Main Food Chamber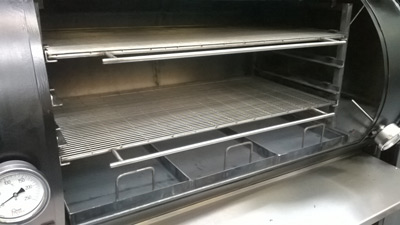 1.4m long constructed of 3mm plate steel and 6mm end plates. Internally there are drawers in the bottom used for charcoal when grilling and act as baffle plates when smoking. In addition there are 4 shelf runners and two food grates providing heat control when grilling and maximising capacity when smoking or roasting. At 1.4 metres in length you can cook a medium sized hog on one rack and much more above or below.
Adjustable dampers in the firebox and flue give you exacting control over the temperature in the cooking chamber and this is monitored using thermometers placed at strategic positions (and if you want more then just ask).
The Fire Box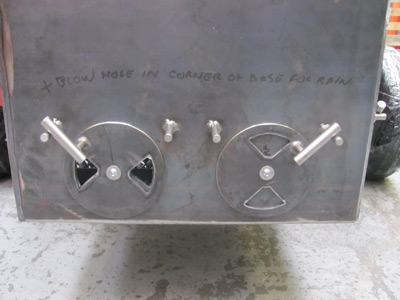 Constructed from 6mm plate steel includes 4 daisy wheel adjustable dampers, side access and an internal fuel basket.
Our choice of 6mm steel reflects our commitment to quality and longevity. We want our product to last you a lifetime without the need to replace the firebox every two years because there's a hole in it. Beware of any smoker manufacturer using less than 6mm plate steel for a firebox.
Vertical Smoker / Warming Oven

Sitting directly over the firebox, this cabinet can be used as a warming oven simply using the radiated heat from the firebox. We have also included a damper between the two chambers so the cabinet can be used as a smoker when the main chamber is being used as a grill.
Inside there are also rods for hanging sausages or fish and as with the main chamber, temperature is monitored using our exacting temperature gauges.
The Trailer

Our barbecue trailers are manufactured using an EU certified trailer chassis. To the front and rear side there are baskets for equipment and fuel, to the front cooking side there is a stainless steel landing area.
There aren't many of these American style commercial smokers UK made, in fact we think we are the only metalworkers dedicated to making barbecue equipment and that gives you an advantage. When your smoker is being designed we can discuss and include any customisations that you want. Here's an example, this one is on a longer chassis and has a dedicated grill to the front: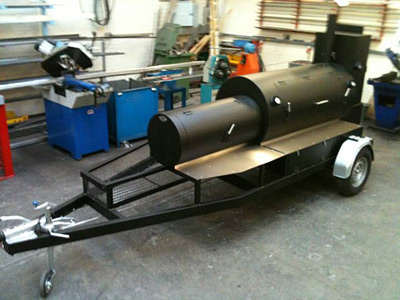 How To Order Your Commercial Smoker Trailer
Call Paul on +44 (0) 7814 500755 and let's discuss your individual requirements or request a call back using our rapid response form below.
If you want our standard design then the ex-works price is £5,295 + VAT. This includes 4 x 100mm dial thermometers each calibrated to +/- 1°C

A 50% deposit secures your order. Construction will take approximately 4 weeks and then you pay the balance and collect your smoker. Prices quoted are ex-works however delivery can be arranged.
Custom Built Commercial Smokers UK Made:
In order to fully understand your needs we will arrange a series of telephone meetings to discuss your ideas and pull together a number of drawings that diagrammatically depict the final construction. Once agreed, we will calculate the price. You sign off on the price and the drawings, pay a 50% deposit and we move into construction phase. Dependent on the size and complexity of the construction, this can take between 4 – 8 weeks.
Our Next Project

How does this look?

Seated on a double axle trailer we'll weld a 1m cubed firebox and make the full conversion to build you the biggest commercial smoker in the UK...have you got the imagination to put it to use?
Contact Paul on +44 (0) 7814 500755 to find out more.

We have so far supplied our commercial smokers UK wide and we now have the capability to deliver into mainland Europe. We speak a little French, Spanish and German so we're sure that we can find a good way to communicate.
Our user guide below will help you understand how to operate one of our American commercial smokers UK and determine whether it's the right piece of equipment for you to purchase.

American Commercial Smokers UK User Guide

It's worth starting by saying that large offset reverse flow smokers like these need care and attention to get the best out of them and once set up, any change, no matter how small will change the oven temperature and therefore necessitate monitoring and adjustment.
Fuel
In a smoker this size you need to use hardwood logs and preferably a log from a tree that bares fruit, do not use softwood (it makes your food taste awful) and make sure that your logs have been aged for at least a year. The aging process reduces the moisture content in the wood, having some moisture in the wood is actually a good thing because in a moist environment smoke particles clump together and are more likely to stick to your meat and impart flavour.
When cooking your meat you're looking for blue wispy smoke and this smoke comes when your fire is in a state of embers. Compare that smoke with the thick white smoke that you get at the start of combustion, cooking in this smoke will give your food an acrid taste.
Take time to set up your smoker – typically our big trailers smokers need 90 minutes preparation before they are ready to cook on.
When replenishing the firebox, don't add fresh un-burnt wood as this will turn your smoke white. Add pre-burnt wood, the best way to do this is have a separate fire pit burning fresh logs by the side of your firebox. When these logs break down into embers then it's time to add them to your firebox fire. You'll need to add a couple of logs more or less on the hour so keep 4 logs burning in your fire pit.
Set Up
To get your fire going, fill the firebox with wood, open the draft vents, open the chimney damper and keep your food chamber door open too. I always remove the stainless steel food racks so that they don't get covered in black smoke particulates.
After half an hour or so you'll start to see the smoke change from black to white so now it's time to close the food chamber door and bring it up to temperature.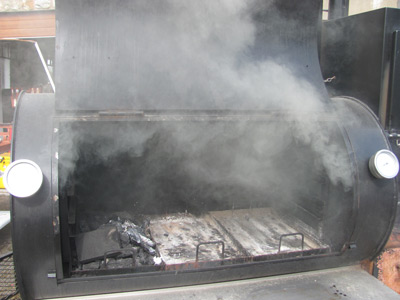 Make sure that the chimney damper is fully open during this time and remember it will take longer to do this in Winter when the ambient temperature is lower.
As the food chamber comes up to temperature you can start playing with firebox damper adjustment and use the chimney damper for fine tuning.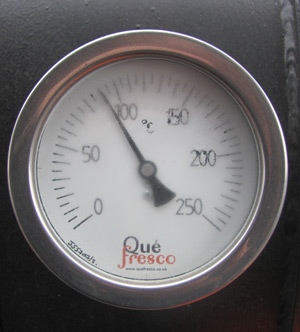 Cooking
Now it's time to put your food on. If you're taking hunks of meat straight from the refrigerator and placing them on the food racks then this will dip the temperature in the food chamber, the same applies if adding cold water to a drip tray. I always recommend allowing meat to come out of the refrigerator a couple of hours before cooking and adding hot water to a drip tray. Food hygienists will not agree but…
Our food chambers have thermometers on both sides so they will give you a good idea what's happening in your food chamber but there's still no substitute for a good remote thermometer to tell you exactly what's going on in and around your meat.
On the hour or when the temperature dips (less than an hour in Winter), add another couple of pre-burned logs.
Cleaning

When you've finished cooking and whilst the unit is still hot, spray the inside with water to remove grease and scrub down. Open the gate valve under the tank to drain. You can pressure wash if you want but never add soap or detergent.
See Also:-

In addition to commercial smokers uk manufacturing we also operate the following BBQ services:

Stainless Steel Charcoal Grills
Stainless Steel Fire Pits
Replacement Stainless Steel Cooking Grates
BBQ Hire
Barbecue Catering
Return To Que Fresco Home From Commercial Smokers UK Built Barbecue Trailers