Barbecue Information And Gas Grill Spare Parts
It's impossible for me to cover everything on my site and I can only focus on what interests me (and hope you like it!) Inevitably there will be items in my pages that will spark of other areas of inquiry depending on your own interests.
Since starting this page I've also started my own business which in part manufactures charcoal barbecues and smokers. I believe our products to be the best (they're certainly not the cheapest) and much of our knowledge and expertise has come through our cooking experiences on various bits of kit. I believe that competition is healthy so we don't shy away from telling you it's out there and you'll find some of our competitors in the barbecue information below.

Further Information

For this fist set of barbecue information I've included some links to websites that I've found to be of interest and I hope that you find them of some use too.
Gas Grill Spare Parts

We make charcoal grills, and we also make replacement cooking grates but don't however make gas grills, in part because we simply like cooking on charcoal but also because charcoal grills have no parts to go wrong.
Gas grills are more immediate for cooking on and we recognise that they have their place in the market and just because we don't like them (and you're looking at this page because you need a spare part for your grill) we're not going to say "I told you so!"
That said before going straight into buying new parts for your grill, spend some time in our barbecue forum and find out whether anyone has experienced the same problem you are because there may be a simple fix.
After that, if you're definitely in need of gas grill spare parts then our recommendation is that you first contact the manufacturer for first hand advice.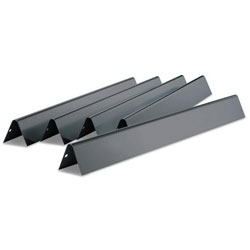 We have searched the internet to find a decent supplier of gas grill spare parts (decent = comprehensive range + good service) and we've yet to find one in the UK. For North American readers the best we have come across so far is Grill Parts Guys for having a wide range of spares but we haven't had the opportunity to experience their service.
Suggest A Site

If you would like to propose a site for inclusion in our barbecue information directory:-
We have created this links directory to provide a wealth of information relating to barbecues, smokers and all things gastronomic. We include only the best quality sites brimming with information about barbecues, smokers and cooking in general. No other type of link will be considered. We get many requests so please ensure that you meet these criteria. Do not apply until you have set up our link on your site and then we will scrutinize your site.
Here's our site link summary:-
Easy Barbecue Recipes - Free barbecue grill recipes & meat smoker cooking ideas on gas, charcoal or electric. Outdoor grilling tips, easy fire pit menus, healthy rotisserie suggestions, best homemade bbq sauce recipes.
To link our site to your site copy the HTML code below and paste it into a prominent page on your site.

Please complete the form below. Note that all fields mark with an asterisk must be completed in full.