Easy Barbecue Baked Beans Recipes
Easy barbecue baked beans recipes start with a can or regular baked beans and my super quick recipe is right here.
I've actually got a number of barbecue baked beans recipes here for you and to be frank they're all pretty easy, what differentiates them is the time taken to prepare and the variation of ingredients.
My Traditional BBQ Baked Beans Recipe
Spanish Baked Beans - Cocido de Montana is a more savoury baked beans recipe traditional in the mountains of Asturias, Spain.

Keri's Hog-Apple Baked Beans - I think that this barbecue baked beans recipe has been flogged to death in that it's appeared in many cook books and recipes sites. That doesn't mean that it's no good and if this is the first time that you've come across it then good for you, it's really worth a try.
John Roemer's masterpiece baked beans recipe - Barbeque'd Skillet Beans. If you've got all the ingredients to hand then this one is so easy to prepare.
Speaking as a "Brit" baked beans are a food staple and not just confined to the barbecue. I've been eating them for many a year and never questioned why or how they came into being? (pun intended!).
What Is It About Baked Beans?
Speaking as a Brit, I've been consuming baked beans since before I can remember, they're so versatile and are part of many a traditional UK staple:
Beans on toast
Scrambled egg and beans
Full "English / Scottish / Irish" breakfast (sausage, bacon, egg, black pudding, mushrooms etc & beans)
Baked potato...with beans (and cheese)
Egg, chips and beans
All of the above generally come straight out of a tin and are white haricot beans (aka navy bean) in a sweet tomato sauce. The commercial manufacturing processes probably differs greatly but to you and me it's essentially a bean stew and there are countless variations on the theme the world over such as cassoulet in France, cocido de montana from Asturias, Spain or Mexican boracho beans. 
The classic American version is said to have been derived from the Native American tribes (Iroquois, Penobscot & Narragansett) whose recipes included maple syrup and bear fat.
The next stage in the evolution was Boston style baked beans (not to be confused with Boston Baked Beans). Boston style baked beans are cooked in a tomato sauce sweetened with molasses and may also have a meat content such as salted pork or bacon and use additional bean varieties such as the kidney bean.
A Boston Baked Bean is a generic term used in the confectionary industry to describe a peanut brittle.
The final evolutionary step to my can of baked beans is the use of brown sugar as the sweetener and the removal of any meat (which apparently happened during World War II rationing).
What turns baked beans into barbecue beans, why do we differentiate and what makes them so good to have with barbecue? 
There's no clear answer for what distinguishes barbecue beans from regular baked beans other than they're home made, contain a few more ingredients and served with barbecue. As to why we have them with barbecue, my theory follows according to the Chads BBQ legend:

Early pilgrim christians didn't work on the Sabbath (and that included cooking) so they cooked beans the day before and kept them warm in the wood fired oven overnight. So my theory is that this is the "wood fired oven low and slow" parallel that made barbecue and baked beans such a natural partnership.
---
The Easiest Of All Barbecue Baked Beans Recipes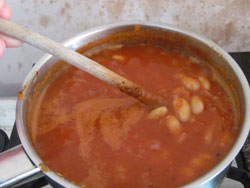 Of all the hundreds of barbecue baked beans recipes out there but this one has to be the most easy and quick to prepare.
What I've done below is to give you the basic recipe from which to work, after that I've got some option ingredients that you can add if you wish to give your baked beans that added twist.
None of the ingredients need any added cooking so it's just a matter of adding those flavors that take your fancy, warm through the bean mixture (the added sugar and mustard powder will dissolve into the mix) and you're ready to go.
Serves:- 4 people

Preparation Time:- 5 mins
Cooking Time:- 10 mins

Total Time:- 15 mins

Ingredients:-
1 400g or 14oz can baked beans
1 tablespoons muscovado sugar
1 tablespoons white wine vinegar
1 tablespoon Worcestershire sauce
1 teaspoon mustard powder
A shake of Tabasco
Now for the optional extras!
Depending on how hot and spicy you like your beans I'll leave you with a few options and I recommend using one of them. If you use them all don't come running back to me!
1 teaspoon of cayenne pepper
1 teaspoon of smoked paprika (better than liquid smoke!)

a sprinkling of dried chili flakes
a chopped seeded chili
Method:-
Just as with the initial set of ingredients, add the extra of your choice during the warm up phase and nothing more is required.
Note that if you choose the option of the fresh chili it may take a little more time for the heat to disperse so give your beans a further 5 minutes on simmer otherwise you might bite on a chunk of chili and blow your head off.
Add any of the above at your peril - you have been warned!
---
Traditional Barbecue Baked Beans Recipe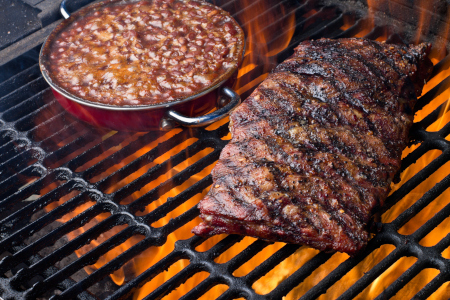 This barbecue baked beans recipe is in a delicious homemade sauce. Once tasted, your bbq will never be the same again
It's the recipe for anyone like me who likes to make meals from the base ingredients. 
Baked beans are traditionally made from white haricot beans, you can buy them dried or ready hydrated straight out of the tin. Either way is good but if using dried, you will have to allow for an overnight soak before making the final preparations.
The dried beans will cook in the sauce (see below) but I always boil up the beans first in some water because when the beans come to the boil there's a foam that appears on the surface of the water. It's not harmful but I prefer to remove it using a slotted spoon and it's just easier to do this step using water rather than when the beans are in the sauce.
Serves:- 4 people

Preparation Time:- 15 mins
Cooking Time:- 30 mins
Total Time:- 45 mins

Ingredients:-
2 tablespoons olive oil
3 cloves garlic crushed
2 finely chopped onions
1 14oz or 400g can chopped tomatoes
1 tube (3.15oz or 90g) tomato purée
2 tablespoons brown sugar
2 tablespoons vinegar
1 tablespoon Worcestershire sauce
1 teaspoon dry English mustard
1 teaspoon cayenne pepper
ground black pepper to taste
Method:-
Fry the garlic and onions gently in the oil for 2-3 minutes until the onions go clear, then add the remaining ingredients.
Bring to the boil, add the hydrated haricot beans, cover and simmer for about 20 - 30 minutes until the beans have softened.
You'll find that the tinned ready hydrated beans will need less cooking because they're already soft so it's more about warming through and making sure that the onion and garlic flavors have time to infuse.
This barbecue baked beans recipe will make up enough sauce to cover a 400g can of hydrated beans or 100g of dried beans.
TIP - Don't be afraid to try out other types of beans. Pinto beans or canellini beans work just as well and if you've got that cheeky style throw in some green flageolet beans for a comedic color!
---
Asturian Barbecue Baked Beans Recipe

This Spanish creation has to be one of the best baked beans recipes that I've ever tasted. At first I didn't think is was going to be such a great accompaniment to barbecue food but the more I tried it out on my fellow diners, the more convinced I've become.
It's not the sweet and sour barbecue taste that prevails. Yes there is sweet and this comes from the "morcilla" or blood sausage (boudin) and the other flavor is spice and this comes with the addition of that great Spanish sausage, chorizo.
The proper name for this is cocido de montaña or mountain stew and it's big in the Northern regions of Cantabria and Asturias. Technically to make the authentic stew you'd have to use Asturian beans or fabadas de Asturias but I substituted butter beans without any real trouble.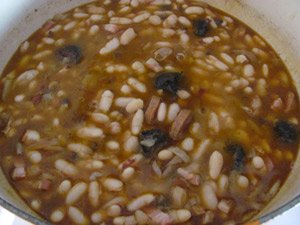 Given the final color of the stew you'd expect there to be tomatoes in the list of ingredients but there isn't. In fact when I first made it I was really concerned because it didn't look the right color when I put all the ingredients together but after a couple hours of cooking, the color and the texture came right to the fore.
Serves:- 10 people

Preparation Time:- 24 hours
Cooking Time:- 2 hours 30 minutes
Total Time:- 1 day

Ingredients:-
500g dried butter beans
150g or 6oz chorizo
150g or 6oz morcilla (black pudding)

1 onion chopped
2 cloves garlic peeled and chopped
5 garlic cloves peeled only
Half a teaspoon pimenton (smoked paprika)
2 pints chicken stock
Method:-
In a Dutch oven or large heavy pan, soak the beans overnight and change the water. Cover the beans with fresh and bring the beans to the boil. You'll notice that when the water comes to the boil that a layer of of "foam" forms on the top of the water, pour the beans into a colander, rinse them to wash off the foam and then throw them back into the pan.
Add the chopped onion, slice the chorizo and morcilla and add these together with all the other ingredients. Now cover the beans with the chicken stock and cook the stew for a couple of hours over a gentle fire or low heat on the stove top.
You're looking for a thick consistency to the sauce so if it looks a little runny then remove the lid to the pan for the final 30 minutes of cooking.
Don't worry if the morcilla disintegrates, that's all part of making the best baked beans recipes on the planet!
Related Pages:-
Try BBQ Chicken with Beans
Essential Tip For Seeding Chilis
Haricot Beans BBQ Salad
Keri's Hog-Apple Baked Beans

Useful External Links

Benefits Of Beans & Pulses In Your Diet


Return to Recipes Home Page from Easy Barbecue Baked Beans Recipes