Barbecue Rub Recipes
My barbecue rub recipes will really tickle your tastebuds! Asian or Cajun? You can achieve these themes and more with easy to prepare barbecue rubs. Add to skinless chicken and you've got a healthy barbecue recipe too.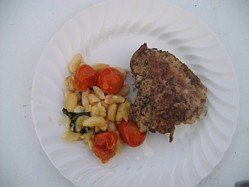 Barbecue rubs are a mixture of dry herbs and spices that are mixed together and then as it says, rubbed onto the meat. Lot's of flavor and very simple and I think probably the single most effective way of shaping the flavour of your barbecue.
Different flavour combinations work with different types of meat and fish so follow my guidelines below.
Try some of my home made barbecue rub recipes and when you've found the ones you like just double up on the quantity and store in a jar for future use. They're quick to make up and bring influences from all over the globe but most of all they taste great on the good ole flame grill!
Adding a rub is really easy too. Just sprinkle it on, do as it suggests and rub it into the flesh then leave for 30 mins to an hour before cooking. A completely unique flavor awaits you.
You can also use a rub to mix into a burger patty as a seasoning.

A rub doesn't affect the cooking time and when doing chicken pieces it's best to take the skin off. Chicken thighs and drumsticks work really well as they just have the right amount of fat to mobilize the flavors.
Note:- If you do leave the skin on the chicken it will taste fantastic but the meat underneath won't take on any flavour from the rub.

The exception to the rule is wings, have you ever tried to skin a chicken wing? Wings don't have much meat on them so a mouthful of meat is usually accompanied by a portion of crispy tasty rubbed skin.

Tip - When you take the skin off, don't waste it. Season well or use more of the rub and lay on the skin on the grill. Watch it crisp up - a naughty but yummy appetizer!
Caribbean Style Rubs For Chicken
Cajun Rub - great on pork, chicken or any meaty fish.
Chinese BBQ Rub - if you're thinking bout chicken wings then check this one out.
Jerk Seasoning - it's gotta be chicken.
Mexican Rub For Fajitas - works well on strips of chicken breast but you have been warned, this is a hot one.
Pastrami Rub Recipe - for beef. If making pastrami you can use brisket or chuck steak.
Spanish Fennel BBQ Rub - one I got in Spain, makes fabulous chicken wings.
Steak Rub Recipe - strong complex flavors for strong meat.
Texas Spiced Rub Recipe - sprinkle this one on your ribs.
Tex Mex BBQ Chicken Wings - how many more barbecue rubs recipes are there for chicken? Well it's the perfect meat for a rub so here's another one!
When you get a favorite rub some people just can't wait even for a knife and fork!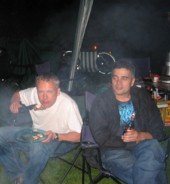 If you're doing a whole bird in a smoker or on the spit, consider putting the rub under the breast skin mixed with a little butter. It'll keep the breast moist during the cooking process and help crisp up the skin – it's a similar process to do Chinese aromatic crispy duck. Remember to be gentle and patient so you don't puncture the skin.
And what about Pork Ribs? Well click here for my classic barbecue ribs rub.

Or click here for my Pork Steak Barbecue Rubs
Generally barbecue rub recipes are best for pork, chicken or turkey but why not experiment? Who said the spirit of adventure was dead? Let me know where your lip smackin' expeditions lead you!
STOP PRESS!
Just in from the barbecue competition is Big Jim's Barbecue Rub.
No time for barbecue rub recipes?
There are many companies and private individuals making BBQ rubs and my perception is that the number is increasing. I've sampled rubs from a number of companies and I like Firefly BBQ rubs.
You use a little more of the rub but that's because there are no nasties in there like monosodium glutamate. We know this because everything is homemade and nothing is bought in. If you haven't got time to use one of my barbecue rub recipes and need to buy in then try Firefly BBQ.