Barbecue Food Appetizers And Spanish Tapas Recipes
Spanish tapas recipes make ideal barbecue food appetizers, many can be done in under 15 minutes and they are all perfect for the outdoor bbq grill. But the recipes below are not just from Spain, there's some great appetizer recipes from all over the world for you to try.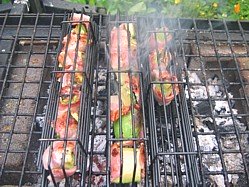 Tapas is a derivation of the verb "tapar" meaning to cover. In the days before refrigeration, the bar tender in the Spanish bodega would cover the customers' glass with a slice of bread to prevent the flies from landing in it. The customers then started to eat the bread and from then on the bar tender started to make the glass covers (tapas) more appetizing than just a slice of bread...and so the greatest finger food on Earth was born!
Barbecue food to me is all about eating with fingers so I guess you can see why I've drawn the parallel with tapas, not forgetting my European roots of course.

All the recipes on this page are for the barbecue grill but that doesn't mean that you can't use them in conjunction with a smoker.

Finding new recipes is a continual chore as you can see from the picture to the left. It was so hot that I had to wash it down with a nice cool beer.
It was on this particular trip to Barcelona that I was acquainted with the first appetizer recipe in the list below, beautifully cooked asparagus spears encased in crisp salty ham.
Spanish Tapas Recipes

Asparagus Spears In Serrano Ham - together with a great tip to make sure your asparagus is perfectly cooked every time.
Fennel Grilled Chicken Wings - First tasted in North West Catalunya. If you like aniseed then this is a must.
Salmon in Mojo Salsa - Beautifully succulent grilled salmon in a lightly spiced sauce that originated in the Canary Islands.
Spicy Grilled Pork Kebabs - Cook it this way and it will be moist and juicy every time.
Jerez Grilled Sardine Recipe - The Spanish way. Simple and fresh with a splash of sherry.
Chicken Livers and Lambs Kidneys - These guys don't normally get a mention so here's a great spicy recipe to make the most of.
Bruschetta - In Spain it's pan con tomate but however you dress it up this is a fantastic barbecue appetizer with bread crisped on the grill.
Plancha Grilled Vegetables - served with pesto dressing and grilled flat breads

Barbecue Food Appetizers From Around The World

Devilled Kidneys - A traditional recipe with mustard and Worcestershire sauce that works really well on the grill.
Shrimp Tapas - barbecue food appetizer straight from Australia!
and More Shrimps - With a great spicy chilli kick!
Thai Grilled Marinated Shrimp Recipe - Sounds complicated?....It's easy, and packed with those distinctive Thai flavours.
Barbecue Scallops - Here you'll find out how to cook scallops on the grill and then some delicious sauce suggestions to finish off.
Fire Roasted Aubergine and Red Peppers - a great accompaniment to many meats or simply as a vegetarian salad.
Monkfish and Bacon Skewers - a meaty white fish wrapped up in salty bacon, fantastic finger food.
Avocado and Bacon Bites - Not strictly a Spanish tapas recipe but these two ingredients were made for each other. Make plenty because they'll be gone in a shot.

Miso Marinated Mushrooms - A really simple and super delicious appetizer.
Grilled Black Pudding - Easy and full of flavour. My favorite is served on a bed of caramelized apple like this.
Garlic Bread - Need I say more?
Smoked Aubergine With Miso & Honey - The umami miso really brings this aubergine recipe alive.
Baby Hasselback Potato Sliders - A whole potato as finger food? You better believe it!
Deep Fried Mozzarella Balls - Cooked in my Monolith wok.
Mini Sausage Rolls - A vegan recipe but don't let that put you off.
Sun Blush Tomato & Pesto Puff Pastry Bites - Another easy and tasty appetizer made in 30 minutes.
Mini Lamb Koftas With Yoghurt Raita Dip - another 30 minute easy appetizer.
Deep Fried Cauliflower Pakora Florets - Subtly spiced Indian flavours for this vegetarian appetizer.

See Also:-

Grilled Fish Recipes
Seafood
Salads
Healthy Options