Grilled Asparagus Recipe
How To Prepare, Cook & Serve

This grilled asparagus recipe will show you how to prepare, cook and serve tender green stems every time.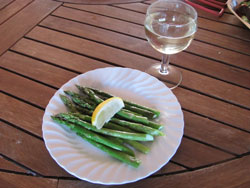 In fact it's now become two recipes:
Grilled Asparagus With Hollandaise Sauce
Asparagus Wrapped In Serrano Ham (not vegetarian!)

Did you know that asparagus is actually part of the lily family? It has a distinctive taste, it's pretty good for you too with high levels of Folic Acid and it's also a source of potassium, vitamins A, B1, B6, & C.
It also contains a substance called Mercaptan which when broken down makes your urine smell. It doesn't affect everyone, in fact you can actually split this smelly sensitivity into four...
Those whose urine smells
Those whose urine doesn't
Those who can smell the odour
Those who can't smell anything
The wonders of the human body! The bottom line though is it doesn't half smell strange but don't be alarmed, it's nothing to worry about.
Asparagus is not cheap to buy and that's because the harvesting season is for about 6 weeks usually between late spring and early summer, in addition the crop is not harvested for the first 4 or 5 years after planting so that's a lot of money tied up in land that has to be recovered in a few short weeks.
It's best to eat your asparagus within 2 or 3 days or purchase. If you are storing it longer, place the asparagus spears in a glass with about 2 inches of water in the bottom and refrigerate.
Preparation
Have you ever had cooked asparagus or had it cooked for you and found that the base of the stalk is woody and the tips is mushy? I have many times and it's a really easy thing to get right if you know how.
It's all about ensuring that you use the best bit of the spear and cut the bases at the right place, so how do you do it? Well first of all, don't cut it, pick up the asparagus spear holding it at both ends and bend.
Where the spear naturally breaks is where the tenderness disappears, keep the head and use the remainder of the stem for something else. I like to thinly slice it and make Asparagus soup.
Additionally you can shave the bottom of the spear so that it is the same thickness as nearer the tip. In theory this ensured that the whole spear is cooked at the same time. I find that if I've used the "bending" method then it's not necessary to shave the base as well.
Grilling
Grilling is simple and gentle, you can do it directly over the coals using the grill grate or use a "fire plate" plancha. Make sure that your grill and the asparagus has been brushed in olive oil then you're ready to go. Place your spears on the grill over medium heat and turn after a couple of minutes. The spears will cook in about 5 minutes and you will know that they are ready by some tell-tale signs:-
The color will go a darker shade of green
The stalks start to droop
When you see the spears darken in color, be careful how much additional grilling you give them otherwise they might start to blacken.
That's it, they are done and should be al dente ie. have a slight crunch when you bite in. That's the "how to grill asparagus" basics, now here is a grilled asparagus recipe with hollandaise sauce and use this link for asparagus and serrano ham.

---
Grilled Asparagus Recipe #1
With Hollandaise Sauce

If you follow the tips for above then this grilled asparagus recipe is a breeze... until you get to the Hollandaise sauce. Read the method statement before you set off then you'll have everything where you need it and gently does it!

Serves:- 4 people

Preparation Time:- 5 minutes
Cooking Time:- 5-8 minutes
Total Time:- 10-13 minutes
Allergens:
Hollandaise sauce contains eggs. Bottled lemon juice contains sulphites.

Ingredients:-
1 bunch of fresh asparagus
50ml or 3 tablespoons extra virgin olive oil
1 clove peeled crushed garlic
Salt and freshly ground black pepper
For the hollandaise sauce
2 eggs
2 teaspoons white wine vinegar
2 teaspoons lemon juice
4oz or 110g unsalted butter
salt and pepper
Method:-
Pour the olive oil into a marinade dish with the garlic, salt and pepper and toss in the asparagus. The marinade doesn't actually tenderize, it simply provides a convenient way of adding the flavors so you don't need to leave it for any length of time.
Place the asparagus spears on the barbecue or hotplate over a medium to low heat and cook gently until the stalks are flaccid and slightly wrinkled taking care not to burn. This usually takes between 5 and 8 minutes.
Pour the vinegar and lemon juice into a saucepan and turn on the heat to bring this up to a bubble.
Whilst the saucepan is heating, crack the eggs into a food processor, season with salt and pepper and blitz for about a minute. With the processor still going, add the lemon juice / vinegar mix in a very slow drizzle.
Turn off the food processor, return the saucepan to the heat and add the unsalted butter. When the butter has melted and started to bubble (take care that it doesn't burn), turn the food processor back on and drizzle in the butter.
You should now have a lovely thick yellow sauce that goes absolutely perfectly with this grilled asparagus recipe. Serve the sauce immediately to minimise the risk that it will split (you don't want to reheat it or boil it). If your sauce does split then this is the way to rescue it.
You can either use the sauce as a dip or present it on each served plate.
---
Grilled Asparagus Recipe #2
Asparagus And Ham Barbecued

I just love to serve this grilled asparagus recipe as a "tapas" appetizer. In Spain they use Serrano Ham, that's mountain ham to you and me.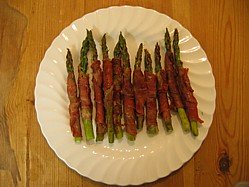 If you can't get hold of Serrano ham then don't worry, you can get away with Parma Ham (or indeed any thinly sliced raw ham) as a much more common alternative.
Asparagus cooks really quickly on the grill and blackens ever so easily so wrapping it in the ham helps to protect the asparagus from the intensity of the grill heat. It also adds a lovely saltiness to the dish.
I've done this recipe for 12 spears but depending on the number of guests you have you may want to do more. It is expensive to do so you could serve it as part of a larger platter of appetizers - maybe three on each plate.
This grilled asparagus recipe makes for great finger-food but once the spears have come off the grill don't expect them to hang around on the serving plate for very long.
Serves:- 4 people (as an appetizer)

Preparation Time:- 15 minutes
Cooking Time:- 10 minutes
Total Time:- 25 minutes
Allergens:
None

Ingredients:-
12 Asparagus spears
6 slices Serrano ham
Olive oil
Freshly ground black pepper
Method:-
Brush the asparagus spears with olive oil and sprinkle with the black pepper. Then wrap some of the ham around each spear.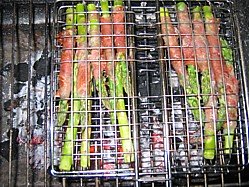 Place them in a barbecue basket and cook over medium hot coals for 5 – 10 mins. The asparagus will turn a darker green when cooked and be careful not to overcook otherwise it will go soggy.
That's your grilled asparagus recipe with serrano ham so all you need do now is break out the mayonnaise or why not try my Alabama White Barbecue Sauce?
See Also:-

Easy Grilled Vegetable Recipes
More Tapas Appetizers

Useful External Links