Alabama White Barbecue Sauce Recipe
Alabama White Barbecue Sauce Recipe "A Low Carb Option"
Even if you're not a mayonnaise fan I challenge you not to like this Alabama white barbecue sauce recipe. I served this up for one of my friend who didn't like mayo, she tentatively took the tip of a teaspoon, tasted it for about 5 seconds and then demanded the recipe!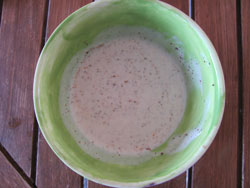 This traditional Alabama barbecue sauce recipe is a fantastic tangy alternative the more recognised BBQ sauces because it uses Mayonnaise as its base rather than tomato. It works well on white meat and we get through bottles of it when we're out catering, mostly slapped on pulled pork. We've also used it as a mixer in our slaw and folks lap it up!
To get the most out of the flavor combination it really needs to rest for a good 12 hours before using so it is better to prepare it the day before and refrigerate. I have to say though that I usually forget and end up making it a couple of hours before with pretty good results.
TIP - Mayonnaise is an emulsion and doesn't hold together well when heated so I prefer to use this sauce just like mayo after the meat has cooked, a bit like you would a dressing, rather than a mop during the grilling or smoking.That's not to say you can't brush it onto the grill but you'll have to be careful not to overheat it otherwise it'll separate.
One other word to the wise, the horseradish adds a lumpiness to the sauce that doesn't fit well with the nozzle on a squeezy bottle - potential for a high pressure explosion if the nozzle blocks and you squeeze too hard!
The essential mix is a ratio of 6 parts mayo to one part vinegar and two parts lemon juice and I've done quite a large quantity here. If you want to make less then simply convert these ingredient measures to tablespoons and dumb down the seasoning accordingly. (I've seen many recipes that suggest equal parts vinegar and mayo - don't go there, it's awful).
Also use cracked black pepper rather than a finely ground pepper because the finely ground pepper will turn the sauce an unappetizing grey color.
Preparation Time:- 10 mins
Resting Time:- overnight
Cooking Time:- N/A

Total Time:- overnight

Ingredients:-
200ml / 7 fl oz mayonnaise
30ml / 1 fl oz white wine vinegar
60ml / 2 fl oz lemon juice
60ml / 2 fl oz apple juice
4 teaspoons horseradish
1 tablespoon cracked black pepper
1 teaspoon English mustard
salt to taste
A good pinch of cayenne pepper
Method:-
Add all the ingredients into a jug and blitz with a hand held food mixer. Cover and refrigerate overnight to let the flavours come together.

See Also:-

Low Carb Barbecue Sauce Recipes
How Long Will Homemade BBQ Sauce Last?
More Easy Homemade Barbecue Sauce Recipes