Contact Paul The Barbecue Smoker Recipe Man

Hi, I'm Paul the Barbecue Smoker Recipe Man behind this site. 
If you've got a question for me click here.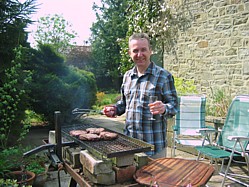 It has crossed my mind that maybe I just like lighting fires but really I am a serious barbecue enthusiast. In fact the whole outdoor cooking experience is for me!
I remember my father buying our first barbecue in France one year when on a family camping holiday, a Frenchman camping next to us showed us how to light it and the rest (as they say) is history. This first barbecue featured a battery driven rotisserie and it also had the option to turn the rotisserie manually - as a kid I sat there next to the barbecue turning a chicken for heaven knows how long. How sad is that?
Now with my own family I love camping in Europe and hopefully getting new inspirations and barbecue ideas, I've even done the odd winter holiday (at least most of my friends thought that was odd) and there's nothing to beat a good barbecue at the end of a hard days skiing. Enthusiast or mad? Make your own mind up!
I started building this website in 2007 primarily as a way of recording my barbecue experiences and learning a new skill and since then my life has changed dramatically for the better. I've had my mid-life crisis and quit my day job so to make ends meet I make a small amount of money from external links on this site, paid advertising and sponsorship.
The barbecues advertised on the right hand column of my website are built and supplied by Michael, a third party associate who has no legal connection with my website. Should you order one of Michael's barbecues then I take a commission and I remain forever grateful.
I no longer do BBQ catering. That said, if you are looking for catering then I can help with some recommendations.
I'd dearly love to hear your thoughts and comments on my barbecue smoker recipe website. Tell me what's hot and what's not. Any questions? Click Here
Happy Barbecuing!
Paul
---
External Links
Links from this website to other on-line merchant sites such as (but not exclusively) Amazon and BBQGuys.com provide you with the opportunity to purchase items from these sites. If you choose to buy then I receive a small commission on these purchases which contributes a little towards the running of this site and I thank you heartily for your support.

---