Contact Paul The Barbecue Smoker Recipe Man

Hi, I'm Paul the Barbecue Smoker Recipe Man behind this site. On this page you'll find all the information you need to contact me together with the legal stuff that will (hopefully) let you rest assured that I am human and not a front to some faceless corporate entity.
If you've got a question for me click here.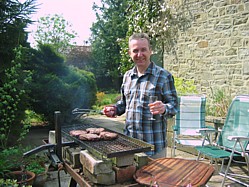 It has crossed my mind that maybe I just like lighting fires but really I am a serious barbecue enthusiast. In fact the whole outdoor cooking experience is for me!
I remember my father buying our first barbecue in France one year when on a family camping holiday, a Frenchman camping next to us showed us how to light it and the rest (as they say) is history.
Now with my own family I love camping in Europe and hopefully getting new inspirations and barbecue ideas, I've even done the odd winter holiday (at least most of my friends thought that was odd) and there's nothing to beat a good barbecue at the end of a hard days skiing. Enthusiast or mad? Make your own mind up!
I started building this website in 2007 primarily as a way of recording my barbecue experiences and learning a new skill and since then my life has changed dramatically for the better. I've had my mid-life crisis and quit my day job so to make ends meet I make a small amount of money from external links on this site, paid advertising and sponsorship.
I also design and build bespoke barbecues out of stainless steel and fabricate replacement parts. Check out the links on the right hand side of this page and you'll see the sorts of things that we make.
The fabrication side of the business is really busy (thanks to you!) so I no longer do BBQ catering. That said, if you are looking for catering then I can help with some recommendations.

I'd dearly love to hear your thoughts and comments on my barbecue smoker recipe website. Tell me what's hot and what's not. Any questions? Click Here
Happy Barbecuing!
Paul
---
External Links
Links from this website to other on-line merchant sites such as (but not exclusively) Amazon and BBQGuys.com provide you with the opportunity to purchase items from these sites. If you choose to buy then I receive a small commission on these purchases which contributes a little towards the running of this site and I thank you heartily for your support.

---
Terms & Conditions

Your purchase of Que Fresco products is my reward for the massive investment in time taken to build this website and I really do thank you for your support. I only build and supply Goods that I know work and are built to the standards one would normally expect of a quality product. 
Inevitably there has to be a legal framework to your purchase so here I explain the Terms and Conditions on which we supply any of the products (Goods) available for purchase here on barbecue-smoker-recipes.com.
Please read these terms and conditions carefully and make sure that you understand them before ordering any Goods from my site. By ordering any of our Goods, you agree to be bound by these terms and conditions. Please print a copy of these terms and conditions for future reference.
DEFINITIONS
Terms And Conditions - this webpage

Goods - the item or items ordered by you from Que Fresco
Contract - the terms and conditions described on this page
Que Fresco - Que Fresco Ltd, my company registered in England and Wales under company number 08359694 with registered office at Barncroft, Kiln Lane, Paythorne. Clitheroe. BB7 4JD. VAT registration number 156 6826 77
Force Majeure Event - any act, event, non-happening, omission or accident beyond our reasonable control and includes in particular (without limitation) the following:
civil commotion, riot, invasion, terrorist attack or threat of terrorist attack, war (whether declared or not) or threat or preparation for war;
fire, explosion, storm, flood, earthquake, subsidence, epidemic or other natural disaster;
impossibility of the use of railways, shipping, aircraft, motor transport or other means of public or private transport;
impossibility of the use of public or private telecommunications networks;
the acts, decrees, legislation, regulations or restrictions of any government;
pandemic or epidemic.
HOW THE CONTRACT IS FORMED BETWEEN YOU AND QUE FRESCO

After placing an order, we will confirm by email that we have received your order and provide you with an approximate delivery date. Closer to the approximate delivery date we will contact you again to confirm the actual delivery date.

YOUR STATUS
By placing an order through our site, you warrant that:

(a) you are legally capable of entering into binding contracts; and
(b) you are at least 18 years old.
AVAILABILITY AND DELIVERY
Your order will be fulfilled by the actual delivery date set out clause 3 above. Que Fresco operates a "kerb side delivery policy" as such:
The delivery driver will unload the vehicle and deposit the Goods at the entrance to your property.
The delivery driver has no responsibility to transport the Goods from the vehicle over uneven, sloping, shingled or graveled surfaces.
The delivery driver has no responsibility to unpack or assemble the Goods.
Que Fresco Ltd or its appointed carrier are not responsible for the disposal of the pallet or any packaging surrounding the Goods.
By signing the proof of delivery provided by the delivery driver without noting any fault or damage, you acknowledge that you have inspected the Goods and that they do not show any signs of fault or damage.
PRICE AND PAYMENT
The price of the Goods and our delivery charges quoted on this website will be inclusive of VAT
Should the rate of VAT change between the date of order and payment then we will adjust the order accordingly
Payment for all Goods must be either by BACS transfer or by credit or debit card.
RISK AND TITLE
Title of Goods passes to you when full payment has been made for the Products together with delivery charges.
Responsibility for the due care of the Goods passes to you when you sign the proof of delivery provided by the delivery driver.
IMPORT DUTY
Any orders shipped outside of the UK will be done so under DDU incoterms. Goods may be subject to import duties and taxes which are levied when the delivery reaches the specified destination. You will be responsible for payment of any such import duties and taxes.

CANCELLATION & REFUNDS POLICY
All of our Goods are made to order. If you wish to cancel an order then call us immediately on 07814 500755 so that we can stop work. An assessment will then be done to establish the direct costs to us and we then reserve the right to charge for the work already undertaken.
If you have chosen to cancel Goods after receipt, the Goods must be returned to us as soon as possible at your cost. You are the owner of the Goods once payment has been taken and they have been delivered to you and you are liable for the loss or destruction. We will refund to you all monies paid for unwanted Goods in question, however we will deduct from this amount a restocking fee of 10% or a minimum of 10 GBP whichever is the greater. Initial delivery costs will not be refunded
Goods should be returned to us in a good clean sale-able condition and in their original packaging. If the returned Goods have not been looked after by you with reasonable care and are not in the condition that they were in when delivered to you, we reserve the right to counter claim against your refund.
Should you wish to return the Goods because you consider that the Goods are defective we will examine the returned Goods and will notify you whether you are entitled to a refund via e-mail within a reasonable period of time.
We endeavour to process any refund due within 30 days of the day we confirmed to you via e-mail that you were entitled to a refund. We will refund the price of a defective Goods in full, any applicable delivery charges and any reasonable costs you incur in returning the item to us.
If you purchased using a credit card we will not refund the credit card charges we have incurred to process your payment.
OUR LIABILITY
Should the Goods prove to be defective we shall only be liable to you for the purchase price of the Goods. We will not be held responsible for consequential loss.
COMMUNICATION
The majority of our communication to you will be either through this site or by email. By placing your order with us you accept this method of communication as being normal. This condition does not affect your statutory rights.
NOTICES AND COMMUNICATIONS
All notices given by you to us must be given to info@quefresco.co.uk or to our registered office (see Definitions).
TRANSFER OF RIGHTS
We may at some point in the future transfer our rights under these Terms And Conditions to another organisation but this will not affect your rights or our obligations under this Contract.
You may only transfer your rights and obligations under this Contract if we agree to this in writing.
FORCE MAJEURE
We will not be liable or responsible for any failure to perform, or delay in performance of, any of our obligations under a Contract that is caused by events outside our reasonable control (Force Majeure Event).
Our performance under any Contract is deemed to be suspended for the period that the Force Majeure Event continues, and we will have an extension of time for performance for the duration of that period. We will use our reasonable endeavours to bring the Force Majeure Event to a close or to find a solution by which our obligations under the Contract may be performed despite the Force Majeure Event.
WAIVER
If we fail, at any time during the term of a Contract, to insist upon strict performance of any of your obligations under the Contract or any of these Terms And Conditions, or if we fail to exercise any of the rights or remedies to which we are entitled under the Contract, this will not constitute a waiver of such rights or remedies and will not relieve you from compliance with such obligations. A waiver by us of any default will not constitute a waiver of any subsequent default. No waiver by us of any of these terms and conditions will be effective unless it is expressly stated to be a waiver and is communicated to you in writing in accordance with clause "Notices and Communications"

SEVERANCE & SEVERABILITY
If any court or competent authority decides that any of the provisions of these Terms And Conditions or any provisions of a Contract are invalid, unlawful or unenforceable to any extent, the term will, to that extent only, be severed from the remaining terms, which will continue to be valid to the fullest extent permitted by law.
ENTIRE AGREEMENT
The Terms And Conditions and any document expressly referred to herein constitute the whole agreement between us and supersede all previous discussions, correspondence, negotiations, previous arrangement, understanding or agreement between us relating to the subject matter of any Contract.
We each acknowledge that, in entering into a Contract, neither of us relies on, or will have any remedies in respect of, any representation or warranty (whether made innocently or negligently) that is not set out in these terms and conditions or the documents referred to herein.
We both agree that our only liability in respect of those representations and warranties that are set out in this agreement (whether made innocently or negligently) will be for breach of contract. Nothing in this clause limits or excludes any liability for fraud.
OUR RIGHT TO VARY THESE TERMS AND CONDITIONS
We have the right to revise and amend these terms and conditions from time to time.
LAW AND JURISDICTION
The Terms And Conditions herein will be governed by English law. Any dispute or claim arising these legal terms will be subject to the non-exclusive jurisdiction of the courts of England and Wales.