Cuisine A La Plancha
Hotplate Recipes
Lot's of great plancha hotplate recipes in my cuisine a la plancha section. Beaucoup des recettes plancha as I try to help my friends in the South West of France where plancha cooking is extremely popular. For a rough translation think about an outdoor tabletop gas grill.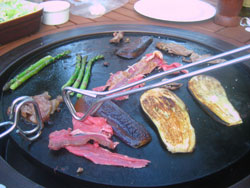 Sadly all my recipes are in English but I hope that doesn't stop anyone from having a go and enjoying the great flavors on offer.
Cooking "a la plancha" also a common method of preparing food in Spain (especially fish and seafood) and I've got into it since getting my Monolith cast iron plancha for my ceramic grill, it's a really great way of social alfresco dining. Many of the recipes below can be done on a traditional grill as well but I think that these lend themselves very nicely to the hotplate grill.
The distinguishing feature of the plancha or hotplate grill is that the food is in direct contact with the heat source and this allows for food to cooked at high temperature upon immediate contact with heat. In essence, recipes that require a blast of high heat are ideal for the plancha.
Cooking slower is also possible on the plancha however the benefit here is not so much in the cooking process but economy. Again it is by virtue of the fact that the food is in direct contact with the heat source, this makes hotplate plancha cooking comparatively economic.
The list will get bigger in the fullness of time and I hope that you enjoy cooking them and much as I've enjoyed developing them.
Plancha Grilled Sole and Lemon Butter Sauce
One of my favorite Grilled Garlic Shrimp Recipes
Coriander Marinade For Grilled Tuna - dip in the marinade and flash sear on the plancha.
One Of the Easiest Plancha Grilled Potato Recipes Ever
Return to Home Page from Cuisine A La Plancha Hotplate Recipes